Pain in the pectoral muscles can be a jarring experience, particularly if you initially think the chest pain is due to heart problems. But like other muscles, your pecs are prone to strains, sprains and overuse injuries. Injuries to nearby muscles also can cause pain and tension in your pectoral muscles.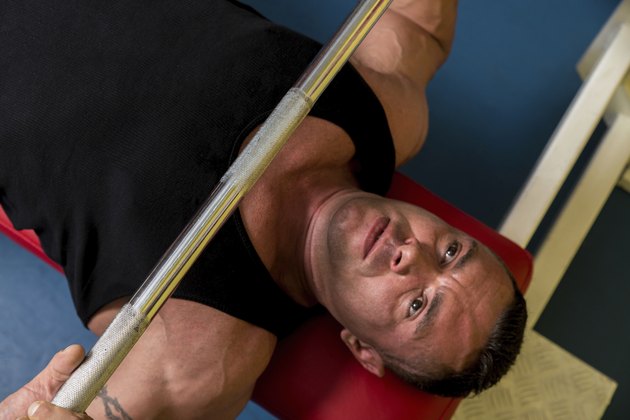 Pectoral Muscle Injuries
Strains and sprains occur when the pectoral muscle tears, and the degree of pain you experience depends upon the extent of the tear. Grade 3 strains are large tears that may require months of recovery, while grade 1 tears are generally superficial, tiny injuries that heal on their own. Poor lifting technique, sudden trauma and overuse of your pecs can increase your likelihood of a tear. If you feel a sudden pectoral pain during or immediately after a workout, the source is likely a tear.
Overuse and Delayed-Onset Soreness
Delayed-onset muscle soreness is a result of tiny tears in your muscles that aren't severe enough to cause lasting injury or pain. It's normal for your muscle fibers to produce microscopic tears during a heavy workout, but you might feel pain for 12 to 72 hours after your workout. Continuing to work through the pain may cause it to worsen, which could lead to a strain caused by muscle overuse.
Injuries to Surrounding Muscles
An injury to a muscle or tendon located near your pecs sometimes can cause pain to radiate to your pecs. It can also cause you to use your body differently, leading to pain. For example, if you injure your tricep, you might compensate for the weakness by overusing your pecs, resulting in pain in both areas.
Treatment
You usually can treat minor muscle injuries at home by alternating heat and cold on the affected area to improve circulation and promote healing. Avoid intense workouts while you're in pain, because overworking your pecs can exacerbate injuries. If the pain is severe or gets worse after several days, talk to your doctor, who may recommend physical therapy, surgery, prescription pain medication or other treatments.