Gaining weight can take as much effort as losing it. A caloric surplus, which involves consuming a greater number of calories than you burn, helps you put on pounds. No specific vitamin, regardless of its claims, will make you gain weight -- vitamins don't contain calories. Only calories that come from nutrient-dense foods support muscle growth, bone strengthening and tissue repair if you've lost weight due to surgery. Consult with your doctor before starting a diet to gain weight. Sudden weight loss or an underweight body size could be caused by a health condition that requires medical intervention.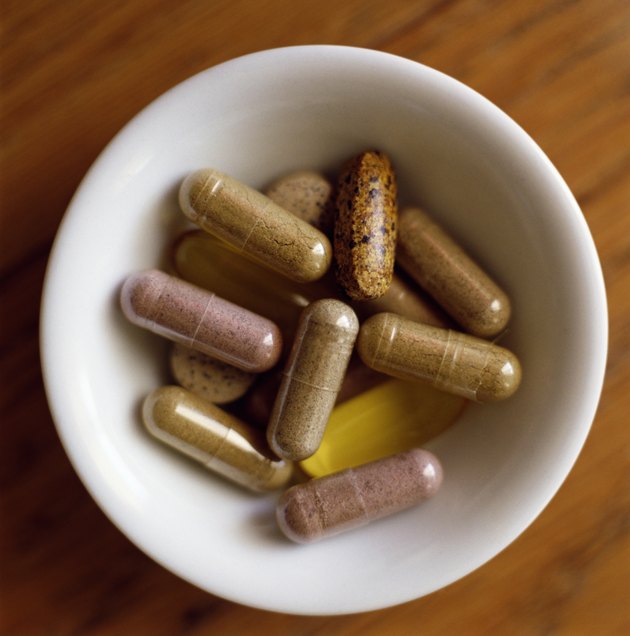 Vitamin Supplement Promises
Vitamin manufacturers may brandish promises on their labels claiming their products make you stronger, more alert or better able to put on muscle. Adequate nutrition, including vitamins, is essential to good health and attaining a healthy weight, but quality vitamins come from whole foods. Your body also digests and utilizes vitamins from whole food sources better than from pills.
To gain weight, eat whole, unprocessed foods such as protein, whole grains, low-fat dairy, fresh vegetables -- especially starchy ones for the calories -- fruit, nuts and seeds. These foods are a rich source of naturally occurring nutrients, not synthetic ones.
Most vitamin deficiencies actually show up as weight gain -- not getting enough vitamin D, for example, can leave you feeling sluggish and stimulate hunger hormones. Don't become vitamin deficient to gain weight, though.
Vitamin B-12 and Your Appetite
Vitamin B-12 is a nutrient you consume in animal products. It supports red blood cell production and energy. Without adequate vitamin B-12, you may find your appetite decreases and it's harder to eat the calories you need to gain weight. Vegetarians and vegans, as well as people with pernicious anemia or digestive disorders like Crohn's disease, are vulnerable to B-12 deficiency.
To get ample vitamin B-12 in a weight-gain diet, eat plenty of protein in the form of poultry, eggs, lean steak, shrimp, dairy and fatty fish. High-calorie B-12-rich snacks include a sandwich made with chicken breast on whole-grain bread; Greek yogurt mixed with a teaspoon or two of honey, granola and berries; and scrambled eggs served in corn tortillas with sliced avocado and salsa. At meal time, always include a protein, such as ground turkey or flank steak, to provide calories and B-12. If you fear you're deficient in B-12 or you're a vegetarian, talk to your doctor about taking a supplement.
Protein Foods for Weight Gain
Protein can help you gain weight in the form of lean muscle mass. Protein isn't a vitamin, but its amino acids contribute to the building and repair of muscle tissue. In addition to animal-based proteins, consider augmenting meals with nuts, nut butter, seeds, and dried beans and legumes. These vegetarian protein sources don't contain vitamin B-12, but do offer ample calories, vitamin E and other B-complex vitamins. Add them to meals to boost the calorie content. Try peanut butter on a whole-grain bagel in the morning; add kidney beans or chick peas to vegetable soup; or use hummus as a dip for whole-wheat pita bread.
Weight-Gain Strategy
Make your caloric surplus equal to 250 to 500 calories per day to gain 1/2 to 1 pound per week. In addition to quality protein, include generous servings of whole-grain carbohydrates and healthy fats at meals. Adding calories in the form of sugar, refined grains and saturated fats won't provide you the balance of vitamins, or other nutrients, you need.
Increase portion sizes of healthy, whole foods at breakfast, lunch and dinner. Have an extra whole-grain roll, a double serving of mashed sweet potatoes or another ounce or two of meat. Have healthy snacks consisting of vitamin-rich foods such as dried fruit or sunflower seeds. Create a smoothie between meals by blending strawberries, bananas, milk, yogurt and protein powder. Add a spoonful of ground flax seeds to increase the nutritional value and calorie content. Drink 100 percent fruit juices between meals to get other vitamins, such as vitamins C and A. Healthy sources of fat, such as avocados and olive oil, can be added as a condiment to sandwiches and salads.
Never skip a meal when you're trying to gain weight. Don't forgo exercise either. You need movement to stimulate your appetite and help build muscle mass, which is a healthier form of tissue compared to fat.