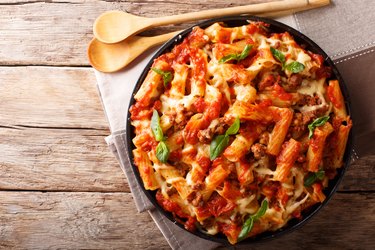 If you're feeling like having a hearty pasta dish, but lasagna just seems way too complicated, you might want to try baked ziti with ricotta and ground beef instead. It will give you the same comforting feel, but with less preparation and hassle.
This basic recipe provides the foundation for a great dish, but still gives you the freedom to make any changes that you want. You'll also find some tips on how to make your baked ziti healthier, if you want to keep it in your regular meal rotation.
The Best Baked Ziti Recipe
To make a baked ziti with ricotta and ground beef, you'll need:
1 pound ground beef

1 small onion, diced

2 garlic cloves, minced

1 (28-ounce) jar marinara sauce

1 (16-ounce) package ziti

1 (15-ounce) container ricotta cheese

1 cup shredded mozzarella cheese

1/4 cup grated Parmesan cheese

1 large egg

1 tablespoon minced fresh parsley
1/2 teaspoon sea salt

1/2 teaspoon ground black pepper

Preheat oven to 350 degrees Fahrenheit.
Add beef and onions to a large saucepan and cook over medium heat until beef is no longer pink. Add garlic and marinara sauce. Bring to a boil then reduce heat to low and allow to simmer for one hour.
Cook pasta according to the package instructions; drain and set aside.
Combine ricotta, mozzarella, Parmesan cheese, egg, salt, pepper and parsley in a large bowl.
Grease a 9 x 13-inch baking dish with olive oil spray. Spread half the meat sauce on the bottom of the dish. Top with half the cooked pasta and half the ricotta cheese mixture. Repeat layers.
Cover and bake for one hour. Remove cover and bake for an additional 10 minutes or until hot and bubbly and top starts to brown.
Remove your dish from the oven, allow to cool for 10 minutes and then serve.
Tips for Making it Healthier
If you're serving your baked ziti for the holidays or a big Sunday family dinner, you might not be concerned with its nutritional facts, but if you're trying to make it a part of your regular rotation, there are some things you can do to make it a healthier dinner choice.
Add veggies. Pasta bakes are an excellent way to sneak in vegetables that you might not eat otherwise. As the meat is cooking, you can add spinach, kale, mushrooms, tomatoes, bell peppers, onions and even carrots to give the meal a boost of vitamins, mineral, antioxidants and phytochemicals.

Go meatless. If you're trying to watch your meat intake, you can make a meatless baked ziti with lots of vegetables and extra sauce. Portobello mushrooms have a meaty taste and a dense texture that can add some heartiness to the dish so you won't even miss the meat.
Swap out the white pasta. Instead of using regular white pasta, which is low in vitamins, minerals, phytochemicals and fiber, according to Harvard Health Publishing, use whole wheat pasta instead. Better yet, use a lower carb pasta alternative, like zucchini "noodles" or spaghetti squash.
Opt for grass-fed beef. The Mayo Clinic points out that grass-fed meat typically has less total fat and more heart-healthy omega-3 fatty acids and antioxidants than conventional beef, which is raised on grains and corn. If your budget allows, use grass-fed beef in your best baked ziti recipe or any other ground beef and ricotta recipes.
Choose a marinara sauce with no sugar added. Check your ingredient lists and make sure you're not using jarred sauce that has added sugar in it. It's not necessary for the taste and added sugar add extra calories and can disrupt your blood sugar, according to the American Heart Association.
Was this article helpful?
Thank you for your feedback!