Performing regular sessions of abdominal exercises may not be enough to obtain flat abs. You also need to maintain a healthy, balanced diet and perform regular sessions of cardiovascular exercise. Lowering your body fat and avoiding excess fat and calories will help you achieve flat abs. If you're overweight, your abdominal muscles will likely go unnoticed.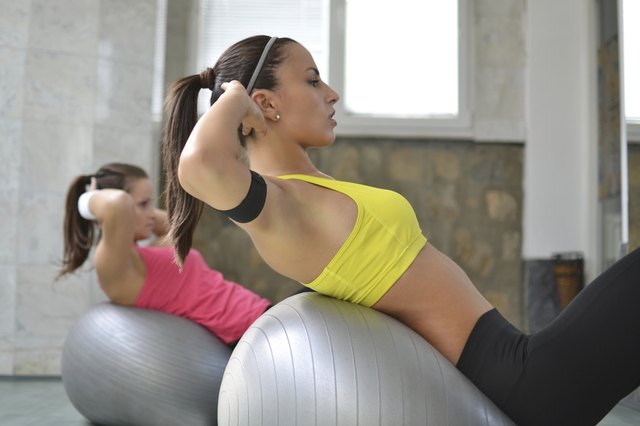 Determining Healthy Body Weight
You can estimate a healthy body weight range starting with just your height, according to Nancy Clark, MS, RD. A woman that is 5-foot tall should weigh approximately 100 lb. Add 5 lb. for every inch over 5 feet. A man that is 5-foot tall should weigh approximately 106 lb. Add 6 lb. for every inch over 5 feet tall. Subtract and add 10 percent for a healthy weight range that considers your skeletal frame size.
Importance of Body Fat Percentage
Being at a healthy weight does not guarantee that your abdominal area will be flat. You also need to have a lower than average amount of body fat. Adult males are considered healthy with a body fat between 14 and 24 percent and women between 24 to 30 percent. But this may not show abdominal definition. Instead, men should aim for 4 to 14 percent and women for 13 to 24 percent body fat. This is still considered healthy, and the leaner you are the less body fat will cover your abdominals.
Exercise Recommendations
Perform cardiovascular exercise at a moderate to high intensity at least five days per week to obtain a healthy weight and lower your body fat. Choose an activity you enjoy that raises your heart and respiration rate. Sessions should last 30 to 60 minutes. Abdominal training can be done every day. Choose a few different exercises that challenge your abdominals in different directions. Crunches on a stability ball, the captain's chair, the bicycle maneuver and reverse crunches are among the best choices for abdominal training, according to the American Council on Exercise.
Considerations
Diet is critical for developing flat abs. You need to eat a balanced diet of carbohydrtes, proteins and fats that do not exceed your daily caloric need. If you eat too many calories you will gain weight and not see a toned midsection. Also, your genetics are a consideration. If you tend to gain weight in your abdominal area first and lose it there last, it may be more difficult to obtain flat abs. Adjust your diet and exercise program if necessary. But take care not to lower your weight or body fat too low as this can negatively impact your health.