Although a macaroni-and-cheese dish actually takes a little longer to cook in the microwave than it does when you are following the stove-top directions, knowing how to prepare the cheesy-noodle dinner in a microwave comes in handy for those cooking in a college dorm or office break-room setting. In the past, Kraft included microwave instructions alongside the stove-top instructions on its family-sized 14.5-oz. box of macaroni-and-cheese dinner, but after the individual microwave bowls of macaroni came out, Kraft removed the microwave directions from its other products.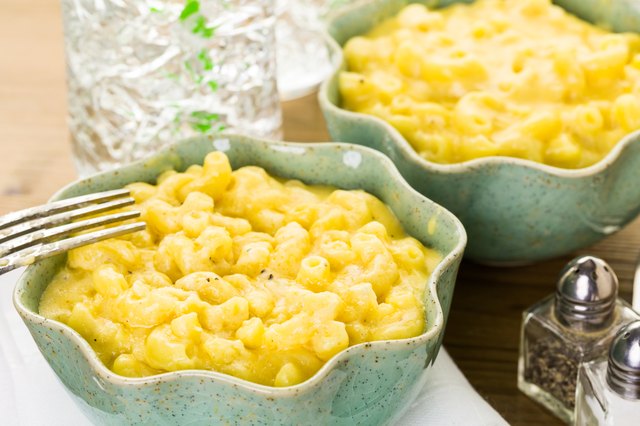 Step 1
Add 1 ¾ cups of hot water and the macaroni noodles from one family-sized, 14.5-oz. box of macaroni and cheese to a 1-qt. microwave-safe casserole dish.
Step 2
Microwave the noodles on high, uncovered for eight minutes or until the water is absorbed. Stop the microwave every three minutes to stir the noodles and water.
Step 3
Remove the cooked noodles from the microwave and stir in 3 tbsp. of butter or margarine, ¼ cup of milk and the package of powdered cheese until the noodles are evenly coated in cheese sauce.
Things You'll Need
1 qt. microwave-safe casserole dish

3 tbsp. margarine or butter

¼ cup milk
Tip
Add tomatoes, peas, broccoli, chicken, ham or any combination of additional vegetables and protein for a true one-dish meal.