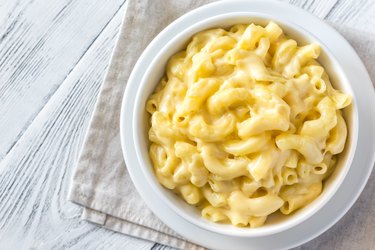 Whether you don't have access to a stovetop or you just want to speed up the cooking process, it's a cinch to microwave mac and cheese. You can make Kraft Macaroni and Cheese in the microwave if you purchase microwaveable Easy Mac, but it's not hard to make your own microwaveable entrée either.
Macaroni and Cheese Ingredients
If you plan to make Kraft Easy Mac, all the ingredients you need are in the small bowl except for the water. You'll need enough water to fill to the marked line on the cup. If you want to make your own microwaveable mac and cheese, you'll need:
Whole-wheat noodles: Kraft Macaroni & Cheese contains enriched pasta, but choosing a whole-wheat elbow macaroni, like in this microwaveable recipe from Healthy Waltham, can increase the total amount of fiber in the dish. Fiber, an indigestible carbohydrate, helps to regular the body's blood sugar and keeps hunger in check, according to Harvard T.H. Chan School of Public Health.
Whole-wheat flour: Flour helps to thicken the cheese sauce, according to the Splendid Table.
Butter, milk and cheddar cheese: It wouldn't be macaroni and cheese without this trio of dairy products.
Vegetables: Increase the healthiness of your microwaveable mac and cheese by adding one small chopped onion and a small head of broccoli that's been chopped into florets.
Water: This will be used to cook the pasta and the broccoli.
Instructions for Homemade Mac
To make microwaveable mac and cheese, start with a microwave-safe bowl. Combine 2 tablespoons of unsalted butter and the chopped onion, if using, with a pinch of salt in the bowl. Microwave for two minutes, stopping to stir every 30 seconds.
Use pot holders to remove the bowl from the microwave, recommends the USDA Food Safety and Inspection Service. Add 4 tablespoons of whole-wheat flour and mix it with the melted butter and onion. Return the bowl to the microwave for another 30 seconds.
Using the pot holders to protect yourself from burns, take the bowl out of the microwave. Add 2 cups of skim milk and use a whisk to mix it into the other ingredients in the bowl. Put it back in the microwave and cook in one-minute intervals until the sauce is thickened.
Add the cheese to the milk mixture. Stir and set aside.
In a separate microwave-safe bowl, combine 1 cup of whole-wheat macaroni with 1 1/2 cups water and the chopped broccoli. Microwave it for two minutes, then stop to stir. Microwave it again for another minute, then keep microwaving, checking every 30 seconds to see if the macaroni and broccoli are tender.
When the noodles are cooked, take the bowl out of the microwave. Combine the noodles and broccoli with the cheese sauce and mix well. Cook for another 30 seconds to heat through.

Microwave Mac and Cheese Nutritionals
When it comes to nutrition, there's a difference between Kraft Macaroni & Cheese and homemade microwaveable mac and cheese. However, each of them have nutritional pros and cons — for example, Kraft Easy Mac contains fewer calories at just 220 calories per serving, as well as less fat at 3.5 grams of fat, than the Healthy Waltham homemade version, which has 347 calories and 17 grams of fat per one-cup serving.
However, the homemade microwaveable mac and cheese has fewer grams of carbohydrates — 35 grams compared to 40 grams in Kraft Easy Mac — and more grams of protein, at 17 grams compared to just 7 grams in the Kraft version.
Additionally, the homemade version of mac and cheese has 4 grams of fiber, while Kraft's version has just 1 gram. Kraft Easy Mac also contains more sodium per serving — 500 milligrams — than the homemade mac and cheese, which contains 386 milligrams of sodium.