Beef jerky, or dried beef, is a shelf-stable product that you can store without refrigeration, according the U.S. Department of Agriculture. Each pound of fresh beef makes about 4 oz. of beef jerky, which may also have salt and flavoring in it. Beef jerky has a high concentration of nutrients, such as protein, vitamin B12 and iron. However, eating too much of it can lead to side effects, so only eat beef jerky in moderation as part of an overall balanced diet.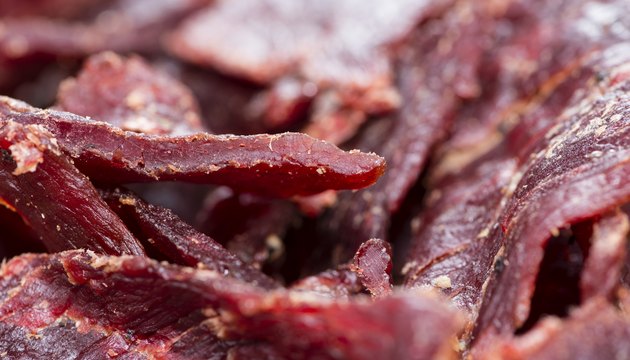 Weight Gain
Each 100g serving of beef jerky provides 410 calories, and eating too many calories can lead to unwanted weight gain. It takes an extra 3,500 calories to gain 1 lb. of fat. If you add 100g of beef jerky into your regular diet, without compensating by reducing your calories from other sources or increasing your physical activity, you will gain about 1 lb. every nine days. Dried foods, such as beef jerky, are higher in calorie density than their fresh counterparts, and a 100g serving of lean raw beef bottom sirloin has 142 calories.
High Cholesterol
A side effect of eating too much beef jerky may be high cholesterol in your blood, which may increase your risk for heart disease. Saturated fat and cholesterol raise your cholesterol levels, and a 100-g serving of beef jerky contains 11g saturated fat and 61 mg cholesterol. A heart-healthy diet gets no more than 7 to 10 percent of its calories from saturated fat, or 15 to 22g saturated fat on a 2,000-calorie diet, according to the Mayo Clinic. Do not have more than 300 mg cholesterol per day.
High Blood Pressure
Beef jerky provides 2,081 mg sodium per 100g serving, and this means that a side effect of eating too much beef jerky is higher blood pressure, which increases your risk for stroke, kidney disease and heart disease, according to the 2010 Dietary Guidelines from the U.S. Department of Health and Human Services. A high-sodium diet may lead to high blood pressure, and healthy adults should limit intake to 2,300 mg per day. If you already have high blood pressure, do not have more than 1,500 mg sodium per day.
Nutrient Deficiencies
Eating too much beef jerky may mean that you are not eating enough nutrient-dense foods to meet your needs for nutrients which are not in beef jerky. Choosing beef jerky as a snack instead of fruits or vegetables may mean a lower intake of vitamin A, vitamin C or dietary fiber. Getting your ready-to-eat protein from beef jerky instead of fatty fish, such smoked salmon or canned tuna, may prevent you from getting optimal amounts of long-chain omega-three fatty acids, which may lower your risk for heart disease, according to the 2010 Dietary Guidelines from the U.S. Department of Health and Human Services.