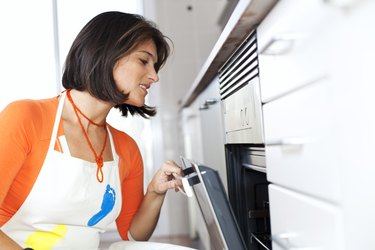 Oven-baked shrimp is one of the better ways to cook shrimp. Frying and grilling shrimp causes flavor and moisture loss, which can make the shrimp turn out rubbery after it cooks. Cooking shrimp in the oven preserves the natural flavors you'll savor, long after you finish eating. For the best results, use fresh shrimp, which is unfrozen and still has its shell. The shell helps protects the flavor, moisture and texture of the shrimp.
Step 1
Peel the shrimp. Avoid buying frozen, peeled shrimp. The shell preserves the texture and flavor of the shrimp. Grab the legs of the shrimp with your thumb and forefinger and peel to the left or right. It should take off the entire shell in one try. If not, repeat until you remove the entire shell.
Step 2
Preheat the oven, setting the temperature to 450 degrees F.
Step 3
Melt a stick of butter on the stove in a small saucepan. Set the stove on medium-low until the butter melts. Remove from heat.
Step 4
Grease a shallow baking pan with nonstick cooking spray and place a single layer of shrimp on the baking pan. Keep the shrimp separated so they do not overlap.
Step 5
Dab the shrimp with melted butter using a brush and season the shrimp to your liking. Season the shrimp how you desire. "What's Cooking America" recommends sprinkling the shrimp with salt, garlic powder, pepper and paprika. Alternatively, sprinkle Old Bay seasoning on the shrimp. This is a popular seasoning used in Maryland, where eating a variety of seafood caught in the Chesapeake Bay is a way of life.
Step 6
Bake the shrimp for 10 to 12 minutes, turning the shrimp over halfway through cooking. Do not dab butter after turning the shrimp. Keep in mind that the shrimp might require more or less cooking time, so monitor the shrimp as they cook. The following is a baking guideline suggested by "Maryland Seafood Cookbook" by the State of Maryland Department of Agriculture: six to eight minutes for small shrimp, 10 to 12 minutes for medium-sized shrimp and 15 minutes for large- or jumbo-sized shrimp.
Tip
If you use frozen shrimp, thaw the shrimp before cooking. Run the frozen shrimp under cool water until thawed. Alternatively, let the frozen shrimp soak in a container filled with cool water for 10 minutes. Drain the water and refill the container every 10 minutes, up to a maximum of 30 minutes.
Warning
Do not eat shrimp if it smells "fishy" or has an unpleasant odor.
Always use clean dishes, utensils and cookware to prevent food-borne illnesses.
Wash your hands after handling the shrimp.