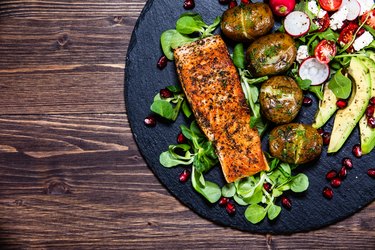 Baked salmon is a healthy entree that's simple to cook and versatile enough that you can find plenty of recipes to prepare without ever tiring of this fish. When cooking salmon, the size factor most directly affecting cooking times is thickness; the thicker the cut, the longer it takes.
If you have a large cut, it's probably a filleted side of salmon, typically sold in slabs weighing 1 pound or more. Season and bake this hefty piece as you would smaller fillets, and then it's easy to cut into individual servings once it's cooked.
To help prevent bacterial growth, bake your salmon within two days of purchase or freeze it to bake at a later date, according to the Food and Drug Administration.
Step 1: Prep the Oven
Put an oven rack on the middle tier. Preheat the oven to 450 degrees Fahrenheit.
Step 2: Prep the Fish
Cover a baking tray with foil and rub some cooking oil over it to prevent sticking. Place the salmon on the tray, skin-side down.
Step 3: Add Some Seasoning
Season the salmon to taste. For a fresh-tasting topping that helps keep the fish moist during cooking, finely chop some fresh herbs — basil, dill, rosemary, sage, tarragon and thyme are all good picks — and mix them with a little cooking oil, minced garlic and lemon zest. Spread this herb paste evenly over the top of the salmon.
Or, for a spicier preparation, cover the salmon with blackening spices; for a dish inspired by Asian cuisine, glaze the salmon with teriyaki sauce or pour on some soy sauce and add on minced garlic and ginger. The possibilities are practically endless for salmon.
Step 4: Bake the Fish
Put the salmon into the oven on the middle tier. Bake the fish for four to six minutes per 1/2 inch of thickness, as described by the Kitchn.
Bake salmon until its flesh is opaque through to the center and its meat flakes apart easily. For certainty, confirm the salmon is cooked to 145 degrees Fahrenheit at center with an instant-read food thermometer, as recommended by the USDA Food Safety and Inspection Service.
To turn out an extra juicy large piece of salmon, place a baking dish with some water, wine or stock in it on the bottom rack of your oven when you begin preheating. This moisture evaporates to steam the fish during cooking, helping keep it moist.
Store Salmon Safely
Keep salmon below 40 degrees Fahrenheit while stored in a refrigerator. If you aren't going to eat your fresh fish right away, it can be frozen at 0 degrees Fahrenheit for three to eight months, according to the USDA.
After eating, discard any leftover fish that has been at room temperature for more than two hours (or one hour if the temperature is above 90 degrees Fahrenheit).
Eat leftover fish within three to four days to help prevent food spoilage. Or freeze leftovers in an airtight container at 0 degrees Fahrenheit and they will keep for up to three months.