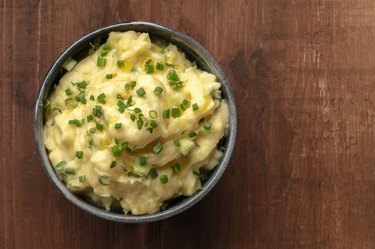 Yukon Gold potatoes are the perfect type to use for a healthy mashed potato side dish. They're super moist and have a naturally buttery flavor, and you don't even need to peel these yellow potatoes.
Cooking Yukon Gold potatoes with the skins on will give you more nutrients, including potassium, vitamin C and fiber. It also makes the cooking process much easier for you and adds texture to your final product.
Here's exactly how to make mashed potatoes with the skins on using Yukon Gold potatoes.
For a basic Yukon Gold Mashed Potato recipe, the main ingredients you'll need are:
Yukon Gold Potatoes
Olive oil or butter
Milk or milk alternative
Salt and pepper
Yukon Gold potatoes are naturally moist and don't require cooking with heavy amounts of milk and butter, so you can even omit these ingredients and use hot water if desired. Or, make another nutritious version by skipping these ingredients and using garlic, olive oil and Parmigiano-Reggiano cheese instead.
How to Cook Yukon Gold Potatoes Mashed With the Skin On
Things You'll Need
Vegetable brush

Saucepan

2 tablespoons butter or oil, such as olive oil

2 to 3 garlic cloves (optional)

Olive oil (optional), to taste

Parmigiano-Reggiano cheese (optional), to taste

1/2 cup milk per pound of potatoes (optional)

2 tablespoons chopped chives or green onions (optional)

2 tablespoons sour cream (optional)

Salt, to taste

Ground black pepper, to taste

Potato masher
The easiest way to cook Yukon Gold potatoes is to boil them and mash them, adding in any of your favorite mashed tater fix-ins. Boiling Yukon Gold potatoes is a quick process because you don't have to peel them first, and they turn soft in about 15 to 20 minutes. Here's how to do it:
Rinse your Yukon Gold potatoes under cold running water and wash them with a vegetable brush. Cut the unpeeled potatoes into large chunks and place them in a large saucepan.
Fill the saucepan with enough cold water to cover the potatoes by about 1 inch. Add salt and bring the water to a boil. For extra flavor, add two peeled cloves of garlic.
Once the water is boiling, lower the flame and simmer, partially covered, for about 15 to 20 minutes.
Check for doneness with a fork or metal skewer. The potatoes should be tender and easily pierced.
When they're tender, drain the potatoes, keeping some of the boiled water on the side to use during mashing as needed.
Return the potatoes to the saucepan.
Gently shake the potatoes in the pan over medium heat to dry them for about one minute.
Mash the potatoes with a potato masher. Blend in butter, oil, garlic sour cream and cheese if you're using them.
Warm your milk on the stove or in your microwave. Once you have mashed all of the lumps out of your potatoes, add the warm milk and incorporate it slowly until you reach the consistency you like.
Add salt and pepper to your desired taste and stir in the chives, reserving some for garnish.
Serve immediately, or save your mashed Yukon Gold potatoes in an airtight container in the fridge for up to four days or in the freezer for up to three months.
Tip
When buying, choose smooth, firm potatoes and avoid those with a green tinge, which may contain a bitter flavor. Store raw potatoes in a cool, dry place separate from your onions, apples and pears to prevent early spoiling.
If you need inspiration for what to serve with your Yukon Gold Mashed potatoes, they make a great side dish to accompany these other tasty and nutritious recipes: