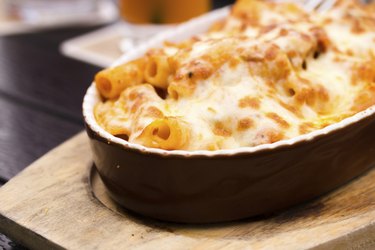 Baked ziti is a great meal to make ahead of time and reheat for your family on busy school nights or when unexpected company shows up for dinner. Save even more time by baking ziti in a freezer-safe casserole dish and then using that dish to both store and reheat the ziti. Baked ziti is high in calories and sodium, so eat it with a salad and low-fat dressing or balance it by eating a light lunch.
Step 1
Thaw frozen baked ziti in your refrigerator for 24 hours before reheating. The ziti can go directly from the refrigerator to your oven if you are heating up leftovers from the day before.
Step 2
Preheat your oven to 350 degrees Fahrenheit.
Step 3
Transfer the baked ziti to a baking pan, if necessary, and loosely cover with foil. Try not to break the ziti into pieces when transferring it.
Step 4
Bake for 15 minutes. Remove the foil and bake for another 30 minutes or until the sauce is bubbly and the center of the ziti is hot.
Tip
Freezing may dry out your baked ziti, so keep some sauce on hand in case you need to add more. You can also reheat baked ziti in the microwave by cooking it on low for 35 minutes while covered, and then on high for 15 more minutes. Microwaving may toughen the pasta and burn the cheese, though.