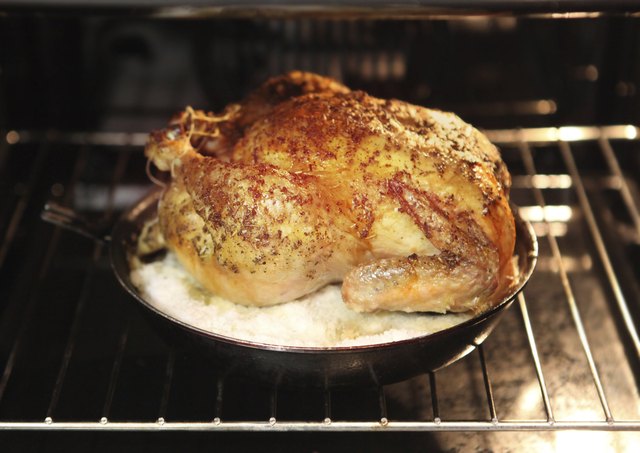 If you are planning to feed only a small number of guests, you can save on preparation and cooking time by making a small turkey. A small turkey may weigh between 4 to 12 lbs. and only take a couple of hours to roast in the oven. Plan on about 1 lb. of turkey per guest if you are using a turkey that weighs less than 12 lbs.
Step 1
Thaw the turkey in the refrigerator. A small turkey between 4 and 12 lbs. needs to thaw in the refrigerator for one to three days before cooking.
Step 2
Preheat the oven to 325 degrees Fahrenheit. Adjust your oven racks if you need to make room for the roasting pan to be put in the oven.
Step 3
Remove the turkey from the bag. Take out any of the giblets that may be stored in the cavity of the bird. Reserve if you plan to use the giblets in preparation of any gravies, sauces or soups.
Step 4
Run clean and cold water through the cavity of the small turkey. Set the turkey on a roasting rack in a small roasting pan.
Step 5
Pat the turkey dry with paper towels. Rub the exterior of the bird with salt, pepper and dry poultry seasonings.
Step 6
Insert a meat thermometer into the small turkey. Insert the thermometer into the lowest portion of the thigh muscle.
Step 7
Cover the turkey with a roasting lid. Remove lid approximately half-way through the cooking time. Pour ½ cup of water into the bottom of the roasting pan.
Step 8
Roast the turkey for 2 ½ to three hours. An unstuffed small turkey is not likely to take more than three hours to cook. The internal temperature of the thigh should reach a minimum of 165 degrees Fahrenheit before removing from the oven.
Things You'll Need
Small roasting pan with lid

Roasting rack

Meat thermometer

Paper towels

Salt

Pepper

Poultry seasonings
Tip
If you are short on time, you may thaw your small turkey in cold water prior to cooking. Submerge the turkey in a tub of cold water. Thawing will take approximately 30 minutes per pound of turkey.
Warning
Avoid stuffing a small turkey. You are not likely to be able to fit a significant amount of stuffing in the cavity of the bird. Also, the United States Department of Agriculture does not recommend stuffing a turkey due to the increased risk of food-borne illnesses.