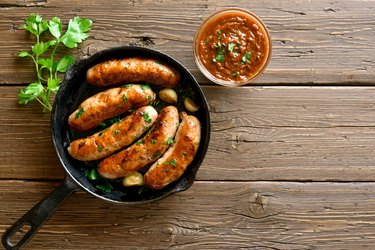 Cooking bratwurst in the oven is just one of the many ways to prepare the popular German sausage. Learn how to simply and safely make an oven-roasted bratwurst.
What Is Bratwurst?
Bratwurst can be manufactured in several ways, says an article on a DePaul University website. The Coburger bratwurst, for instance, is made with nutmeg, salt, pepper and lemon zest and can be composed of veal and beef. The Kulmbacher bratwurst, on the other hand, is thin and made mostly from veal.
A more common type of bratwurst in the United States is the "beer brat" which, as the name indicates, is cooked with beer. The beer brat became popular in Wisconsin, home to many German immigrants.
As far as nutritional value, bratwurst is high in sodium and protein. The USDA says that a bun-sized bratwurst contains 250 calories, 10.3 grams of protein and 634 milligrams of sodium.
Cooking Bratwurst in the Oven
When it comes to cooking sausages, MeatSafety.org offers a few tips. The first is to cook them slowly so that the casing doesn't split. Unless your recipe calls for pricking the sausages prior to cooking, they should be turned over using tongs instead of a fork to avoid splitting the casing.
Moreover, sausages can be parboiled, grilled or slow cooked. One recipe from the Splendid Table, explains how to make oven-roasted sausages with apples and pears. The recipe calls for sweet Italian pork sausages, although you could substitute bratwurst.
2 tablespoons unsalted butter
1 tablespoon brown sugar
3 Bosc pears

3 Granny Smith apples
Salt

1 cup fresh orange juice
1 cup Riesling wine
1 teaspoon orange zest, grated

2 slices ginger
2 whole cloves
1 cinnamon stick
1/8 teaspoon crushed anise seed
9 sausages

Heat the oven to 375 degrees Fahrenheit.

Melt the butter in a frying pan, add brown sugar and heat over medium heat until dissolved.
Peel, core and halve the apples and pears, add them to the pan in a single layer, uncut side up, and cook for five to seven minutes.
Take the frying pan off the stove and arrange the apples and pears in a single layer in a large-capacity baking dish, sprinkling them lightly with salt.

Add wine, orange juice and zest, anise seed, cloves, ginger and cinnamon stick to the frying pan and bring to a boil over high heat. Take the pan off the stove and remove the cinnamon stick, cloves and ginger.
Prick the sausages with a fork and add them to the baking dish.
Pour the cooked orange juice blend over the sausages and fruit and loosely cover the baking dish with foil.
Bake in the oven for 25 to 35 minutes or until the sausages are cooked and the fruit is tender but not mushy.

Serve with our Roasted Butternut Blendie Soup or Spicy Purple Potato Salad for a delicious, satisfying meal.

Food Safety Tips
The USDA Food Safety and Inspection Service has a number of tips on food safety that are applicable to cooking and storing sausages. They explain that the sausage label contains all the necessary information about the product, such as the product name, ingredients list, nutrition information, safe-handling instructions and more.
Including dates on packaged sausages isn't required, but if a date is used, the package must state what the date indicates. For example, the "Sell By" date tells the store how long they should have the product out for sale. Cooked sausage, such as bratwurst, can be stored in your refrigerator unopened for up to two weeks, opened for seven days and in the freezer for one to two months.
When roasting meat, use an oven temperature no lower than 325 F, says FoodSafety.gov, which also recommends that you always use a food thermometer to ensure safe internal meat temperatures in order to kill any bacteria that might be present. You should carefully follow the package instructions as well and make sure you're using the correct cooking appliance.