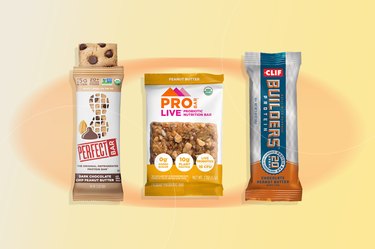 Whether you're trying to gain weight in the form of muscle mass or looking to add a few pounds for health reasons, taking in adequate calories can sometimes be tricky. Enter protein weight-gain bars, a convenient snack that can supplement your diet with extra calories.
First, the basics: If weight gain is your goal, you'll need to eat more calories than you burn, according to the Cleveland Clinic. As a result, you want to pick a protein bar that's high in calories.
But make sure that the protein bar you pick is full of nutritious calories from natural sources of protein (like nuts and seeds), rather than non-beneficial calories from sweeteners, says Isabel Smith, RD, CDN, a New York City-based registered dietitian.
To help you get started, here are some of the best protein bars for weight gain, according to a dietitian.
The Best Protein Bars for Weight Gain
We tapped registered dietitians to share their recommendations for protein bars for weight gain. The products were chosen based on the following criteria:
Ingredients
Cost
Taste
Effectiveness
Find more information on how we choose and review products here.
Pros
No artificial sweeteners
Tasty flavors
16 grams of protein
Load up on a Perfect Bar, which packs 350 calories and as many as 16 grams of protein per serving. Smith says these bars also contain minimal added ingredients — and no artificial sweeteners — which makes them a nutritious alternative to more highly processed products.
Shop flavors like dark chocolate chip peanut butter, snickerdoodle and salted caramel for a high-calorie, protein-rich treat for your weight-gain diet.
Pros
Plant protein
No artificial sweeteners
Nutrient-dense
Cons
Some reviewers say it's hard to chew
Clif Builders are packed with nutrient-dense calories (290 calories per bar) and a whopping 20 grams of plant protein, Smith says. Even better, these bars don't contain any artificial sweeteners and instead get their delicious flavor from ingredients like peanut and cocoa butter.
Try flavors like peanut butter, chocolate mint and vanilla almond to pick the best bar for your taste.
Pros
No added sugars or artificial sweeteners
Dairy, gluten and soy-free
Get your fill of vitamins, minerals and protein (15 grams, to be exact) by tucking into a Sans Bar. These bars clock in at 390 calories per serving and contain no added sugars or artificial sweeteners — instead, they get their flavor from natural ingredients like dates, coconut, spices and nuts.
As an added bonus, these bars are dairy-, gluten- and soy-free, making them the perfect option if you have certain dietary restrictions.
Pros
Plant-based protein
Gluten- and soy-free
12 grams of protein per serving
Cons
Some reviewers say there's too much sugar
Get plant-based protein aplenty (up to 12 grams per serving) by munching on a ProBar, a gluten- and soy-free protein snack that also packs in nutritious fiber from ingredients like chia and flax seeds.
The bars come in fruity, nutty and dessert-like flavors like wholeberry blast, peanut butter and chocolate coconut, and contain up to 390 calories per bar.
5. Orgain Plant-Based Protein Bar
Pros
USDA certified organic
Non-GMO
Gluten, soy and dairy-free
Cons
Not calorie-dense (only 150 calories per bar)
Some reviewers say the texture is too chewy
A vegan option that is free of many common allergens like gluten, dairy and soy can be found in this Orgain product. Known for their plant-based protein powder, this brand makes tasty bars in six different flavors — cookie dough, chocolate coconut, peanut butter chocolate, peanut butter, s'mores and chocolate brownie.
While these bars are not that calorie-dense (they contain about 150 calories per bar), they can be a great snack addition to your weight-gain diet and plan.
6. MET-Rx Big 100 Protein Bar
Pros
Contains 18 vitamins and minerals
32 grams of protein
Great for post-exercise recovery
Cons
Some reviewers say the bars can taste chalky
Sometimes the best protein bars for weight gain are ones that serve as a meal replacement bar. This pick from MET-Rx has 410 calories per bar and 32 grams of protein. It contains 18 essential vitamins and minerals, including zinc, vitamin A and vitamin C.
An added bonus? Because these bars are chock-full of nutrients, they make a great post-workout recovery snack. Athletes and those trying to gain weight can benefit from this choice.
7. Rise Whey Protein Bars
Pros
Only three ingredients
Made with whey protein isolate
Non-GMO
Great taste
Cons
Some reviewers say this flavor is too sweet
A simple protein bar can still be effective. That's why this almond honey bar by Rise is one of our top picks. It's made with whey protein isolate, which often causes less digestive upset than whey protein concentrate, as the majority of fat and lactose is removed.
Plus, it's made in small batches with all-natural ingredients in California, which means you're more likely to get a good-quality product.
Pros
20 grams of protein
Only 4 grams of sugar
Cons
Lower in calories, which may not help with weight gain
Prebiotic fiber is a great addition to anyone's diet, whether you're looking to gain weight or not. It can help regulate your digestive system, and help grow healthy bacteria in your gut. This bar by Legion has 9 grams of prebiotic fiber, 20 grams of protein and 240 calories, making them a perfect on-to-go or post-workout snack.
Plus, this bar is free of gluten, artificial sweeteners and overly processed ingredients.
What to Look for in a Protein Bar for Weight Gain
The ingredients and nutritional value of weight-gain protein bars depends on which product you buy. But in general, here's what to look for on the label:
‌Calories:‌ Smith recommends picking a bar that contains at least 300 calories. She says there are some options that contain as many as 700 calories, but these dense snacks may cause stomach upset.
‌Protein:‌ A bar should have at least 8 grams of protein, per the Columbia University Irving Medical Center (CUIMC).
‌Fat:‌ A bar should also contain at least 5 grams of fat, per the CUIMC, ideally a beneficial source of the nutrient like nuts, nut butters or flaxseed oil.
‌Complex carbohydrates:‌ Complex carbs provide sustained energy, so look for sources of the macro from whole grains like brown rice, oats or quinoa, per the Cleveland Clinic.
On the flip side, beware of bars that say they're sugar-free but contain sugar alcohols. These ingredients may cause digestive symptoms like bloating, gas and diarrhea, according to the Mayo Clinic.
According to the Mayo Clinic, types of added sugars to steer clear of include:
Fructose
Glucose
Maltose
Dextrose
High-fructose corn syrup
Cane juice or syrup
Malt
Protein Bars vs. Whole Food
Natural foods are the best source of nutrition for your body, Smith says. That's why it's best to get most of your protein from lean meats, legumes and vegetables.
While protein bars are convenient, they may contain added sugars that natural protein sources don't. Additionally, choosing bars over whole foods may cause you to miss out on the essential nutrients and fiber you'd normally get in food.
Accordingly, it may be best to save your weight-gain bars for when you're short on time or out and about, per the CUIMC. Otherwise, opt for protein-dense foods.
Good Sources of Protein
Protein-rich foods to add to your diet include:
Lean meats like chicken breast and ground turkey
Fish
Soy products like tofu and tempeh
Beans
Lentils
Eggs
Nuts, seeds and nut butter
How to Make Your Own Protein Bar
Pre-made protein bars may be convenient and fit your calorie needs, but to ensure you're getting one that's exactly right for you, a better option could be to make your own.
Use ingredients like protein powder, whole grains, nuts, seeds, dried fruit and nut butter to make a high-calorie bar at home.