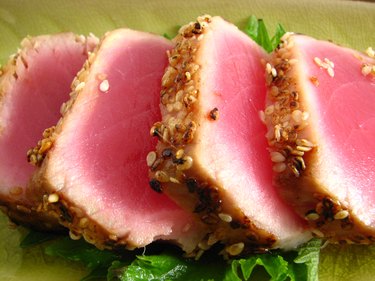 If you have some frozen tuna steaks on hand but aren't sure what to do with them, you can cook them several ways. You can sear them on the stove top, bake them or grill them. What you choose depends on the recipe and time you have available.
Tip
Thaw the tuna steak before cooking for best results, otherwise it can dry out. To cook it rare, cook for two minutes on each side. To cook medium, cook three to five minutes and for well-done, cook five to eight minutes.
What is Tuna?
According to the World Wildlife Foundation, tuna is a species of fish among the most commercially valuable options. Most of what's on the market today is one of four types: skipjack (representing more than 50 percent of global catch), yellowfin, bigeye and albacore.
While you're likely most experienced working with canned tuna, working with it is not the same as working with an ahi tuna steak recipe. Not only is canned tuna already cooked, but Seafood Health Facts reports albacore tuna is most often sold in canned tuna as "white" meat. "Light" tuna refers to skipjack tuna. Sometimes, a small amount of yellowfin tuna is mixed into "light" products.
The Hawaii Seafood Council (HSC) reports that "ahi" refers to yellowfin tuna and bigeye tuna. These types of tuna have a firm texture and mild flavor that makes them great for raw preparations such as poke, sushi and sashimi. It can also be seared, grilled, broiled or sautéed. When it comes to grilling, HSC says bigeye ahi tuna is the best option because of its high fat content.
How to Cook Frozen Tuna
You likely will not find an ahi tuna steak recipe that calls for you to start from frozen. Thaw the tuna steak before cooking because the fish cooks quickly, and dries out if overcooked. To thaw a tuna steak, the U.S. Food and Drug Administration says you should place it in the refrigerator overnight.
If you need it right away, seal it in a plastic bag and leave it immersed in cold water. Alternatively, if you plan to cook frozen tuna immediately after thawing it, you can use your microwave defrost function, stopping when the fish is pliable but still icy.
To cook medium, cook three to five minutes and for well-done, cook five to eight minutes. The tuna will turn from pink or red to white as it cooks. The fish is done when it is opaque and flakes easily with a fork.
Generally, you should cook it for 10 minutes per inch of thickness at 400 to 450 degrees Fahrenheit. If you're cooking with a sauce or in foil or parchment paper, add another five minutes. If you're working with filets that are less than one-half inch thick, you don't need to turn it when cooking.
Health Benefits of Tuna
Go ahead and find an ahi tuna steak recipe to try soon. According to U.S. Department of Agriculture FoodData Central, a 100-gram serving of fresh, raw, ahi tuna contains 109 calories, 24 grams of protein and less than half a gram of fat. For the healthiest tuna, the FCAS says you should poach, bake, microwave, broil or sauté without high-fat ingredients.
The fat in tuna is from omega-3 fatty acids, which have been shown to have a number of health benefits. According to a January 2012 study published in Advances in Nutrition, omega-3 fatty acids have been associated with weight management, improving cardiovascular health and improving cognitive function in those with mild Alzheimer's disease.
For those with concerns about mercury concentration, it's worth noting that high consumption of tuna may present health issues. According to an August 2017 study published in Reviews in Fisheries Science & Aquaculture, there is a wide variation in mercury levels in species from different locations, suggesting the need for long-term monitoring programs so that region-specific information on contaminant levels is available to the public. Once available, the public would be better able to make decisions about which fish to eat to avoid the risk.