Vitamin B-12 serves as a generic term to represent several different forms of the vitamin, one of which is Methyl B-12, an active form that supports metabolism. If you're healthy and get your recommended daily intake of vitamin B-12, your methyl B-12 needs should be met. However, without a sufficient amount of methyl B-12, you're at risk for developing megaloblastic anemia and nerve disorders.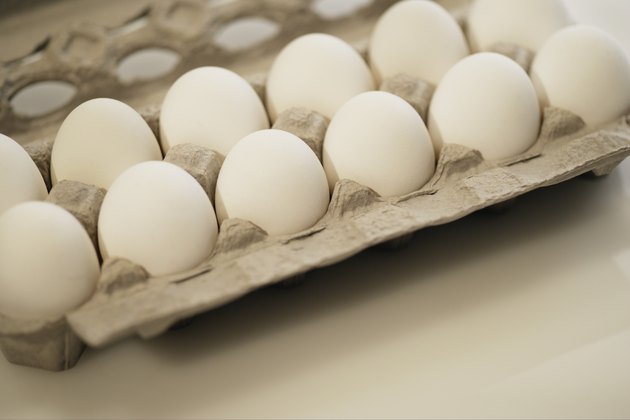 Active Forms of B-12
All types of vitamin B-12 contain the mineral cobalt, which is why they're also called cobalamins. The vitamin's form depends on the type of molecules attached to the cobalt. In methyl B-12, or methylcobalamin, the cobalt is connected to a specific structure of molecules called a methyl group. This group is responsible for its impact in the body. Only two forms of vitamin B-12 -- 5-deoxyadenosylcobalamin and methylcobalamin -- are metabolically active. Any other form of vitamin B-12 you consume is converted into one of the active types.
Benefits of Methyl B-12
Methyl B-12 works as a cofactor, or coenzyme, which means it must be present to activate an enzyme called methionine synthase. Methionine synthase helps produce red blood cells, as well as the substance that insulates nerves called the myelin sheath. It also converts the amino acid homocysteine into methionine. This results in two health benefits. Reducing the amount of homocysteine in your blood prevents damage to arteries from high levels of homocysteine. Methionine is used to synthesize S-adenosylmethionine, or SAMe, which supports the function of DNA, proteins and neurotransmitters.
Daily Requirements
Because any type of vitamin B-12 you consume can be converted into methyl B-12, it does not have its own daily intake. The recommended dietary allowance for total vitamin B-12 is 2.4 micrograms daily, unless you're pregnant or breastfeeding and then it increases to 2.6 micrograms and 2.8 micrograms respectively. While vitamin B-12 is different from other water-soluble vitamins because it's stored in your liver, you still need to get a regular supply through your diet to avoid developing a deficiency.
Sources and Supplements
Vitamin B-12 is synthesized by bacteria found in animals, so natural sources include seafood, beef, poultry, eggs and milk or other dairy products. If you follow a vegetarian diet you'll need to take supplements or eat fortified foods, according to VeganHealth.com. You may need supplements if you don't efficiently absorb vitamin B-12 due to gastrointestinal disorders. Most supplements contain an inactive form called cyanocobalamin. While it's easily converted to active forms in healthy people, if you have gastrointestinal issues, absorption may improve if you take supplements containing methyl B-12.