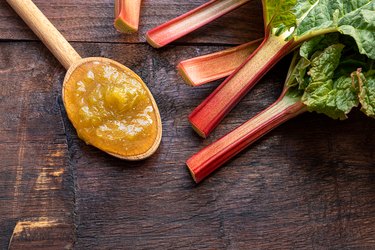 Burdock and wild rhubarb have funny-sounding names and they've both been used in Chinese medicine for centuries — but the similarities pretty much end there, especially when it comes to the nutritional breakdown of burdock versus rhubarb.
While burdock is fairly high in carbohydrates, rhubarb can fit in nicely into a low-carb or keto diet. Burdock and rhubarb are both high in antioxidants, but burdock is tied to healthy blood and skin health, while rhubarb protects your digestive system, kidneys, heart and brain.
Burdock vs. Rhubarb Nutrition
According to the USDA, the rest of the nutritional breakdown for 100 grams of burdock looks like this:
72 calories

1.5 grams of protein

0.2 grams of fat

3.3 grams of fiber

2.9 grams of sugar

3% Daily Value (DV) of calcium

4% DV of phosphorus

7% DV of potassium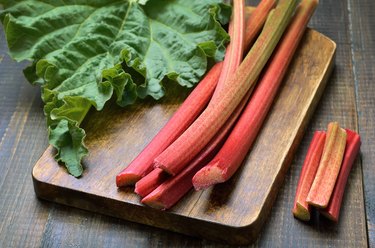 If you eat 100 grams of rhubarb, you'll only take in 21 calories and 0.9 grams of protein, but you'll also get:
0.2 grams of fat

1.8 grams of fiber

1.1 grams of sugar
3% DV of magnesium
6% DV of potassium
24% DV of vitamin K
Although neither burdock nor rhubarb is especially high in vitamins and minerals, they're both loaded with antioxidants. According to September 2012 research published in the ​International Journal of Food Science and Technology​, some varieties of rhubarb even have more of a specific class of antioxidants — called phenolics — than kale.
Herbal Medicine: Burdock vs. Rhubarb
Another similarity between burdock and rhubarb is that they're both used in some cultures' herbal medicine practices. Although their specific uses are different, they're still both popular choices for various conditions.
In fact, a December 2017 report in the journal ​Chinese Medicine​ calls rhubarb one of the most common and important herbs in Chinese medicine. That same report notes that rhubarb is linked to:
Regulating digestive health.
Protecting your kidneys.

Supporting heart health.
Protecting your brain.
Fighting off pathogens, like bacteria and viruses, that can cause infections.
There's not a lot of current research on the health effects of burdock, but, according to an older October 2011 report in ​Inflammopharmacology​, it's associated with:
Detoxifying the blood.

Improving blood circulation.

Improving skin quality/texture.

Reducing the severity of skin diseases, like eczema.

The same report notes that burdock also has anti-inflammatory properties, similar to rhubarb. However, more research needs to be done in order to confirm both veggies' benefits.
How to Eat Burdock and Rhubarb
According to the Utah State University Extension, you can eat burdock raw or cooked. Most parts of the plant, including the roots, the leaves and the stems, are edible.
On the other hand, you can only eat the stem of the rhubarb plant (either raw or cooked). The leaves are poisonous, according to the USDA SNAP-Ed Connection.