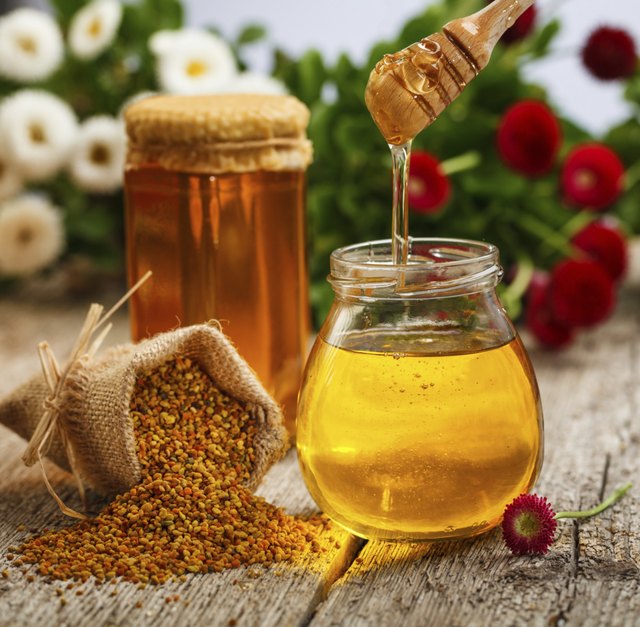 Many people claim that honey is healthier than regular white sugar. It provides enzymes, vitamins and minerals and is thought to reduce allergies if you have local honey. However, your body reacts the same way to honey, so there is really no difference. Just like table sugar, honey increases your blood sugar, increases your risk of dental caries and adds calories to your diet.
Added Sugars
On the U.S. government's food pyramid, My Pyramid, honey is considered an added sugar. Added sugars are not found naturally in foods, as in the case of fruit and milk, but are added to foods and drinks. Honey is in this group alongside corn syrup, brown sugar, molasses and others.
Discretionary Calories
Added sugars fall under the category of discretionary calories on the pyramid. The pyramid allows 100 to 300 calories after you have reached your basic nutrient needs for the day. However, this amount is only allowed if you have eaten healthy and low-fat foods all day. If you included high-fat choices in your meals or snacks, you lose your discretionary allowance. The USDA explains that if your needs are 2,000 calories a day, you can meet your nutrient needs within 1,735 calories and then you can consume those extra 265 discretionary calories.
Individual Discretionary Calories
Discretionary calories vary based on your age, sex and activity level. From the ages of 19 to 30, 265 discretionary calories are allotted for inactive women, 265 to 360 for active women, 360 for inactive men and 410 to 510 for active men. From 31 to 50, 195 calories are allowed for inactive women, 265 to 290 for active women, 290 for inactive men and 360 to 510 for active men. Over the age of 50, 130 calories are allotted for inactive women, 195 to 290 for active women, 265 for inactive men and 290 to 425 for active men.
Considerations
Although you are allotted discretionary calories, consider that about 16 percent of the American diet is made up of added sugars. Added sugars add calories to your diet without adding much nutritional value. The 2010 Dietary Guidelines for Americans explains that in moderation, solid fats and added sugars are just as likely to cause weight gain as any other calories. The problem is that Americans on the whole eat far too many of these discretionary calories and become overweight or obese as a result. Americans are also not getting enough nutrients because they eat non-nutritive foods in place of nutritionally dense options.