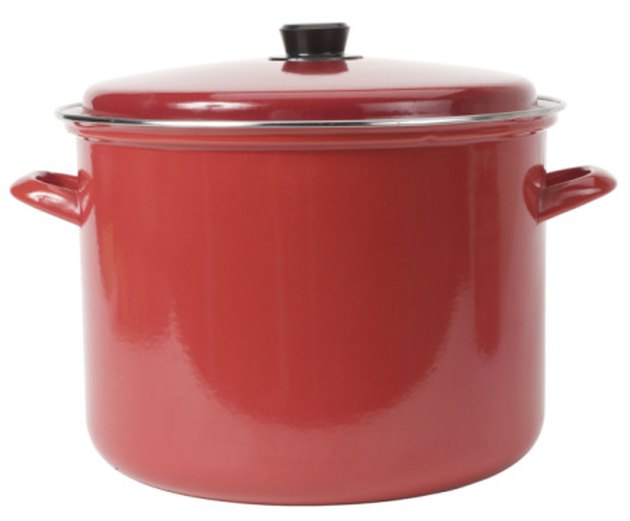 Chicharon bulaklak is a traditional Filipino dish made from fried pork intestines. Chicharon bulaklak is crispy with a mild flavor that is accentuated when you dip it into a powerful sauce. You can purchase the pork intestines to make the chicharon bulaklak from many butchers for a relatively low cost. The rest of the ingredients are readily available from local grocers and natural food markets. You will need approximately 45 minutes to prepare chicharon bulaklak. This recipe serves eight.
Step 1
Combine the bituka ng baboy, water and rock salt in a large pot and place over high heat. Leave the bituka ng baboy to boil until the water is evaporated. This should require between 20 and 30 minutes.
Step 2
Pour the vegetable oil into the pot and reduce the heat to medium-high. Add the garlic and stir the bituka ng baboy to coat evenly in the oil.
Step 3
Fry the bituka ng baboy for approximately 10 minutes or until it is golden brown.
Step 4
Remove the bituka ng baboy from the pot and place onto paper towels to drain excess oil.
Step 5
Combine the vinegar, chili powder, lime juice, salt and oyster sauce in a small bowl. Stir with a spoon for 30 seconds to blend the sauce.
Step 6
Serve the sauce alongside the hot chicharon bulaklak.
Things You'll Need
2 lbs. pork intestines, or bituka ng baboy, sliced and cleaned

3 cups water

1 tsp. crushed rock salt

Large pot

1 cup vegetable oil

4 tbsp. minced garlic

4 tbsp. cider vinegar

2 tbsp. chili powder

1 tbsp. lime juice

1 tsp. salt

1 tbsp. oyster sauce

Small bowl

Spoon
Tip
Refrigerate leftover chicharon bulaklak immediately and consume within two days. Do not attempt to clean or dress the bituka ng baboy on your own; ask your butcher to do it for you.