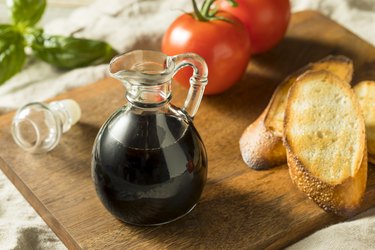 Balsamic vinegar is a kitchen pantry staple, and for good reason. Whether as part of a salad dressing or a marinade, vinegar adds a delightful acidity to foods.
Vinegar has been produced for at least 5,000 years, coinciding with the fermentation of grapes used in the winemaking process, per a September 2016 report in ​Metabolites.​
Balsamic vinegar helps enhance the flavor of foods while remaining low in calories. Using vinegar in place of higher-calorie salad dressings or sauces significantly helps reduce your overall calorie intake, which is beneficial if you're trying to achieve or maintain a healthy body weight.
One tablespoon of vinegar is equal to a single serving. One tablespoon of distilled vinegar contains:
Calories: 3
Total fat: 0 g
Cholesterol: 0 mg
Sodium: 0.3 mg
Total carbs: 0 g

Dietary fiber: 0 g
Sugar: 0 g

Protein: 0 g
Balsamic Vinegar Nutrition
Traditional balsamic vinegars come from two specific regions in Italy: Reggio and Modena, according to the Vinegar Institute. Traditional balsamic vinegar production involves lengthy and complex processes.
Some traditional vinegars age for decades creating a sweet and rich flavor, but these vinegars are limited in quantity and are expensive. Domestic balsamic vinegars produced in the U.S. are more widely available at a lower cost.
Calories: 14
Total fat: 0 g
Cholesterol: 0 mg
Sodium: 3.7 mg
Total carbs: 2.7 g

Dietary fiber: 0 g
Sugar: 2.4 g

Protein: 0.1 g
Balsamic vinegar's carbs mostly come from sugar. There are 2.4 grams of sugar in balsamic vinegar, which isn't much, deeming it a desired alternative to high-fat and high-calorie condiments.
Health Benefits of Balsamic Vinegar
​Antioxidants:​ The most significant nutritional bonus of balsamic vinegar is the flavonoids contained in the grapes. Flavonoids are antioxidants that are linked to protecting heart and brain health and serve to rid the body of cell-damaging free radicals.
Balsamic vinegar derived from red grapes has the highest amount of antioxidants present, which are linked to a decreased risk of cancer and heart disease, per an October 2018 study in ​Antioxidants.​
This is further confirmed by the September 2016 study in ​Metabolites,​ which states that the balsamic vinegar health benefits include a decrease in both hypertension and inflammation.
​Blood sugar control:​ Additional research suggests that balsamic vinegar could help with blood sugar control. A small, October 2013 study of 14 people in the ​Journal of Functional Foods​ found that consuming small amounts of vinegar before a meal decreased the levels of blood glucose in adults predisposed to type 2 diabetes.
Vinegar is a great alternative to higher-calorie dressings and marinades, and could be extra beneficial when paired with complex carbs. Two 2010 studies in the ​Journal of Nutritional Science and Vitaminology​ and ​Annals of Nutrition and Metabolism​ report that consuming vinegar with complex carbohydrates reduces post-meal blood glucose levels, and balsamic vinegar is linked to reduced triglyceride and total cholesterol levels.
Cooking With Balsamic
Salad dressing may top the list of most common uses of balsamic vinegar but its slightly acidic fruit flavor also lends itself well to savory marinades and sauces. Drizzle balsamic on fresh fruits such as strawberries and peaches for a touch of tartness.
Balsamic will reduce to a syrup-like texture when heated in a pan and adds a surprising element to a sweet dish.
Vinegar is a highly acidic food, and studies show that a diet high in acidic foods can have certain negative effects on your health. A February 2014 study in ​Bone and Mineral Research​ reports that a high dietary acid intake is associated with low bone mineral density in men with low calcium intake.
And a December 2014 study in ​Diabetologia​ found that a high acid intake may increase the risk of developing type 2 diabetes. Balsamic vinegar has one of the highest acid contents, exemplified by its low pH — 2.3 to 2.8, according to Nordic Food Lab. Use balsamic vinegar in moderation.