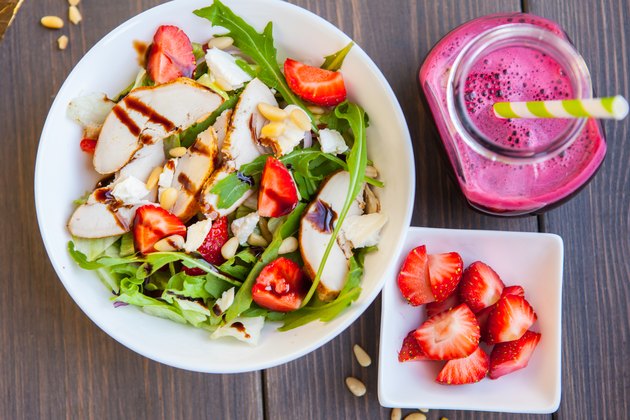 Made by the fermentation of grape must, balsamic vinegar has a dark color and tart, yet sweet flavor. Known for its high antioxidant content, balsamic vinegar health benefits also include controlling high blood pressure and blood glucose levels in people with Type 2 diabetes.
What is Balsamic Vinegar?
Balsamic vinegar is a common type of vinegar made by the double fermentation of white grape must. According to the September 2016 study published in Metabolites, vinegar has been produced for at least 5,000 years, coinciding with the fermentation of grapes used in the winemaking process.
The main differentiation from white vinegar is balsamic vinegar is left to mature in wooden barrels for anywhere from 10 to 50 years. This results in a thick, darker-colored vinegar that has a more intense yet sweet flavor, according to the authors of the September 2016 study in Metabolites.
Balsamic vinegar production traces its roots back to Modena and Reggio-Emilia, two areas in Italy where rigorous protocols are in place to maintain the quality and output of balsamic vinegar. Officially called Aceto Balsamico Tradizionale, or traditional balsamic vinegars (TBV), balsamic vinegar produced in these two regions will always contain an official seal, indicating authenticity and high quality.
Balsamic Vinegar Nutrition
According to the USDA, one cup of balsamic vinegar contains 1.25 grams of protein, 43.43 grams of carbohydrates and has a zero fat content. Along with 194.95 grams of water per cup of liquid, the amount of balsamic vinegar calories in one cup is 224.
Other balsamic vinegar nutrition includes a high mineral content of potassium, which is an electrolyte required by all cells in the body. Adding balsamic vinegar to your daily diet will help in proper muscle contraction and prevent the occurrence of low potassium or hypokalemia, which can cause constipation, weak muscles and tiredness.
Balsamic vinegar nutrition also contains minerals like calcium and sodium, which are responsible for blood clotting, regular heart function and controlling the body's blood volume. Phosphorus, another electrolyte found in the body, is present in a serving of balsamic vinegar and is responsible for the body's bone and teeth formation, as well as with nerve impulses and maintenance of the kidneys.
Balsamic Vinegar Health Benefits