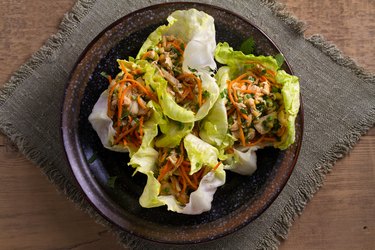 P.F. Chang's calls their lettuce wraps their signature dish. They also describe them as a secret family recipe, so they're not very forthcoming with the P.F. Chang's lettuce wrap ingredients. The Chang's Chicken Lettuce Wraps were the original lettuce wrap menu item.
However, after they became so popular, the Chiang family added Vegetarian Lettuce Wraps and Dynamite Shrimp Lettuce Wraps to the lineup, too. Although they sound like they'd be healthy (they're lettuce instead of bread, right?), you may be surprised to see what the nutritional facts actually look like.
Chicken Lettuce Wraps
730 calories

240 calories from fat

27 grams of total fat

6 grams of saturated fat

30 milligrams of cholesterol

2,050 milligrams of sodium

81 grams of carbohydrates

8 grams of fiber

42 grams of sugar

38 grams of protein

Keep in mind that's for the whole appetizer. They don't specify how many servings you get out of one order. If you're splitting the wraps with a few other people, the nutrition facts may be pretty reasonable. However, if you're choosing the lettuce wraps as your meal in the hopes that you're making a healthy choice, you may want to look elsewhere.
Of those total calories in lettuce wraps, 168 of them come straight from sugar. That's more than the American Heart Association recommends that both men and women get in an entire day. The current recommendation is that men consume no more than 36 grams (or 150 calories) of added sugar each day, while women should limit their intake to fewer than 25 grams (or 100 calories).
Of course, since all of the ingredients aren't listed, there's no way to tell exactly where all that sugar is coming from, but since there's no fruit in the dish, it's a pretty good guess that it's added into the sauce in some form.
Vegetarian Lettuce Wraps
But what about their other signature item: the P.F. Chang's Vegetarian Lettuce Wraps? Are they any better? Like the chicken lettuce wraps, there's no mention of how many servings an appetizer is supposed to have, but the nutritional information looks like this:
640 calories

260 calories from fat

29 grams of total fat

4 grams of saturated fat

0 milligrams of cholesterol

2,060 milligrams of sodium

68 grams of carbohydrates

8 grams of fiber

34 grams of sugar

24 grams of protein
While some of the nutrition facts are a little more appealing — they have fewer calories, carbohydrates and sugar — they contain almost as much sodium as you should have in an entire day, which is 2,300 milligrams, according to Medline Plus from the U.S. National Library of Medicine.
Dynamite Shrimp Lettuce Wraps
As for the other lettuce wrap offering, the Dynamite Shrimp Lettuce Wraps, there is some information on what's inside. According to P.F. Chang's menu, the Dynamite Shrimp Lettuce Wraps contain tempura-battered shrimp and Asian salsa tossed with a spicy dynamite sauce. Of course, that's all served with crisp lettuce cups. While they sound delicious, these wraps have the least favorable looking nutritional facts out of all three options.
An entire Dynamite Shrimp Lettuce Wraps appetizer contains:
1,280 calories

740 calories from fat

82 grams of total fat

12 grams of saturated fat

1 milligram of trans fat
190 milligrams of cholesterol

1,400 milligrams of sodium

110 grams of carbohydrates

7 grams of fiber

38 grams of sugar

31 grams of protein
Something that sticks out about the shrimp version compared to the other two is the presence of trans fat. While it's not a lot (1 gram for the entire appetizer), it's something to be aware of. According to the Mayo Clinic, trans fat is the worse type of fat you can eat because it raises your bad cholesterol while also lowering your good cholesterol. While 1 gram isn't a lot, eating small amounts of trans fats regularly can add up, if you're not careful.
Although the lettuce wraps aren't the best healthy food choice since they're high in calories, carbohydrates, sodium and sugar (and the shrimp version even contains some trans fat), an added bonus is that P.F. Chang's has a Farm to Wok food philosophy. This means that everything is made from scratch with whole ingredients.
They don't serve anything that's pre-cut or pre-cooked. So, while you may be getting more than you bargained for when it comes to P.F. Chang's calories, the good news is that you're not getting artificial ingredients or processed foods when you order off their menu.