Of all conditions affecting your gastrointestinal tract, IBS, or irritable bowel syndrome, is the most common one and affects between 10 and 15 percent of the population. The symptoms can vary between mild, moderate and severe and include constipation, diarrhea, flatulence, abdominal distension, discomfort, pain and cramping. If you have IBS, you probably notice that some foods, perhaps watermelon, trigger these symptoms.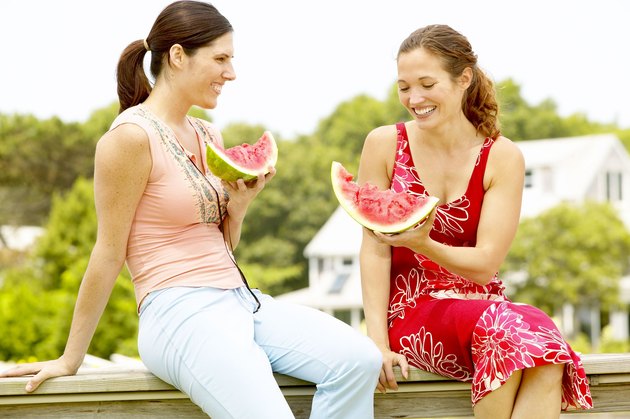 Fructose, Fructans and Polyol
Watermelon contains three different short-chain fermentable carbohydrates: fructose, fructans and polyol. Fructose is the natural sugar found in fruits, where fructans actually is a molecule made of a chain of fructose found in some fruits, vegetables, wheat and nuts. Polyol is a family sugar-alcohol, including sorbitol and mannitol, also found in some fruits and in sugar-free products. Watermelon is not the only fruit containing these problematic sugars; apples, pears, blackberries, mango, cherries and plums could also be problematic for you.
Fructose and Sorbitol Malabsorption
The excess fructose combined with the fructans and polyol found in watermelon are poorly absorbed in some people, which results in their fermentation in your intestines, causing gas, distension, pain, diarrhea or constipation. Many IBS sufferers do not tolerate these sugars very well and eliminating them from your diet can help relieve IBS symptoms in 75 percent of people dealing with IBS. Consult a registered dietitian with experience in this area for help planning a balanced diet while eliminating all problematic short-chain fermentable carbohydrates.
Diagnosis
If you suspect you have an intolerance to watermelon, ask your doctor to do a hydrogen breath test to be diagnosed with fructose and sorbitol malabsorption. No test is available to test for fructan malabsorption. The tests have to be done on separate days. This test consists in ingesting a specific amount of fructose, or sorbitol, and then having your breath analyzed every 30 minutes for two to three hours. If high levels of hydrogen are detected in your breath, which indicates that fermentation of these sugars is occurring in your intestines, you will be diagnosed with either fructose or sorbitol malabsorption, or both.
Less Problematic Fruits
If you have suspect that short-chain fermentable carbohydrates, like the ones found in watermelon, are contributing to your IBS symptoms, replace fruits high in fructose, fructans and polyol with safer fruit alternatives. Banana, blueberry, cantaloupe, grapes, kiwifruit, orange and strawberry are safer fruits that you can enjoy in small amounts. Avoid large amounts of any fruits, even if considered safe, as well as their juices and their dried version because they may overload your capacity to handle fructose and other of these problematic sugars.