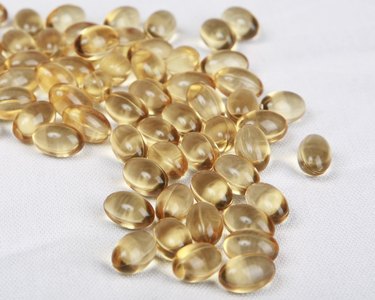 As many as 77 percent of Americans are vitamin-D deficient, according to a 2009 report in the "Archives of Internal Medicine." With the number of deficiencies rising and research showing a connection between vitamin D and many health conditions such as autoimmune disease, cancers and obesity, many people are turning to vitamin supplements. Your recommended vitamin D intake may be less than 4,000 IU. Consult your doctor to determine your personal vitamin D requirements.
What is Vitamin D-3?
Vitamin D is a fat soluble nutrient that is categorized into two forms: vitamin D-2 and vitamin D-3. Vitamin D-2 is processed using plants and is used to fortify foods such as milk. Vitamin D-3 is the form that is created when your body is exposed to the ultra-violet B rays of sunlight. It can also be acquired by eating animal products, such as oily fish, as they process and create vitamin D-3 similar to the way you do. Vitamin D supplements come in both forms, though there is research that shows that the D-3 form is more effective. A study published in the November 2004 issue of "The Journal of Clinical Endocrinology and Metabolism" found that vitamin D-2 is much less effective in humans than vitamin D-3. They found that vitamin D-3 had a greater degree of success when it came to raising and maintaining the body's level of 25 hydroxyvitamin D in the blood.
Recommended Supplementation
The topic of just how much vitamin D a body needs is one of hot debate between physicians, researchers and organizations. While the Institute of Medicine's Food and Nutrition Board did raise the recommended levels in 2010, many physicians and researchers believe that they were not raised enough to provide for optimal health care. The current recommendations by the Food and Nutrition Board are 400 IU, for children age birth to 12 months, 600 IU for ages 1 to 70, and 800 IU for individuals older than 71 years of age. They also raised the safe upper limit of vitamin D to 4,000 IU per day.
Research Recommendations
Researchers from the University of California, San Diego School of Medicine and the Creighton University School of Medicine published a paper in the journal "Anticancer Research" in February 2011. They found that daily intakes of 4,000 to 8,000 IU were needed to keep vitamin D levels within an optimal range. This range has been determined to cut the risk of breast cancer, colon cancer, multiple sclerosis and Type 1 diabetes in half.
Vitamin D-3 Toxicity
Vitamin D-3 toxicity is very rare, though a toxic level can result in symptoms of anorexia, heart arrhythmias and kidney damage. Excessive sun exposure will not lead to vitamin D toxicity as the body is able to self-regulate the production through the skin. Toxicity is caused by too much added supplementation. According to the Office of Dietary Supplements, most reports show that the toxicity threshold of vitamin D is between 10,000 and 40,000 IU per day. The Food and Nutrition Board has also cited studies that show an intake of 5,000 IU/day creates a blood serum level of 40 to 60 ng/mL, which is within the normal range of 30 to 80 ng/mL. With this in mind, a dose of 4,000 IU a day should not cause toxicity. However, as with any vitamin supplementation plan, always consult your physician before taking anything above the standard recommended dose.