Although a narrow waist and wide hips are signatures of the feminine figure, some women are genetically inclined to have thicker waists and narrower hips. To achieve a more feminine form, do exercises to sculpt the muscles in the waist, hips and buttocks. Pushups, for example, can help tone your midsection and broaden the upper body to create a more tapered silhouette. Consult your physician before starting an exercise program.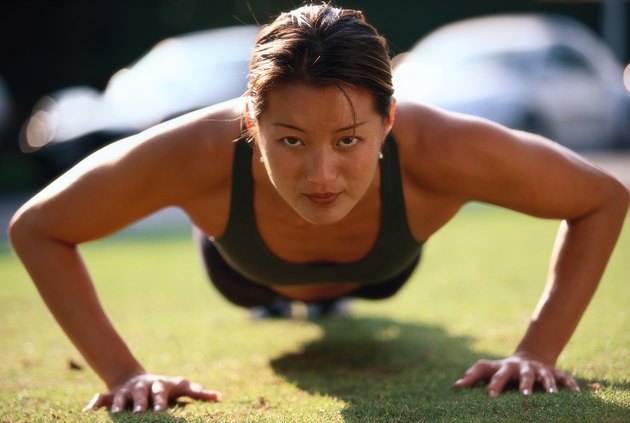 Pushups
Step 1
Lie face down with your legs and feet flat on the floor. Put your hands palm-down at chest level with your elbows out to the side.
Step 2
Bend your knees and cross your feet and your ankles. Engage your abs, press your hands against the floor and lift your torso and hips. Hold for 10 seconds and slowly lower your body to within 1 inch of the floor.
Step 3
Repeat the pushups up to 15 times. Rest and do one to two more sets.
Lower Body Twists
Step 1
Lie on your back with your knees bent and the soles of your feet on the floor. Extend your arms out in a "T."
Step 2
Lift your feet until your calves are parallel to the floor and your knees are directly above your hips. Hold your knees together, engage your abs and press your lower back into the floor.
Step 3
Keep your shoulders flat, let both knees fall to the left and let them hover 2 to 6 inches off the floor. Hold for five seconds and use your waist muscles to lift your knees back to the start position.
Step 4
Repeat the same motion to the right and return to the start. Repeat the twist five times on each side, rest and do one to two more sets. Straighten your legs for more intensity.
Angled Lunges
Step 1
Stand with your feet hip-width apart. Put your hands on your hips.
Step 2
Step your right foot forward one leg length and approximately 6 inches to the right. Bend your right knee until your thigh is parallel to the floor. Keep your right knee over your ankle.
Step 3
Hold the lunge for 10 seconds and push back up to the start position. Perform the same motion on your left leg. Repeat each leg 10 times, rest and do one or two more sets.
Tip
Exercise will help enhance your natural curves, but will only go so far. If your natural body shape is more square, you can also use clothing to enhance your hips, slim your waist and create a more feminine shape.