You most often use cornstarch in cooking to thicken recipes. Although cornstarch is made from corn and often found in corn syrups and sugars, eating raw cornstarch is unhealthy, and you shouldn't do it. Address any cravings you have for cornstarch with your physician; craving it may indicate a medical problem or nutrient deficiency.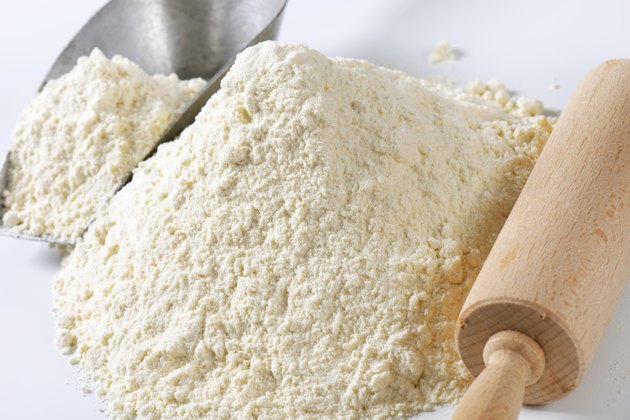 Pica and Cornstarch
Registered dietitians frequently work with patients who have extreme cravings that are sometimes associated with nutrient deficiencies. Often, though not always, craving cornstarch is related to an iron or zinc deficiency. People who eat raw cornstarch typically have pica, the extreme craving and consumption of nonfood substances such as cornstarch, laundry starch, ice or dirt. While cornstarch is used in food, it is not meant to be eaten raw.
Cornstarch Nutrition
Cornstarch is considered a nonfood substance since it only contributes "empty" calories. This means when you eat raw cornstarch, the only nutrient provided is calories. One cup of cornstarch contains 488 calories and zero vitamins or minerals. Consuming cornstarch regularly can result in weight gain as well.
Amylophagia and Cornstarch
Amylophagia is the medical term used to define the compulsive consumption of starch, including cornstarch and laundry starch. Consuming large amounts of cornstarch can lead to infection, hardening mass in the abdomen, iron deficiency anemia, malnutrition and intestinal obstruction. Raw cornstarch actually binds to iron in the body, leading to iron deficiency anemia. Amylophagia is most often seen in pregnant women. It is also seen in individuals with developmental disabilities, obsessive-compulsive disorder or mental retardation, as well as in psychiatric patients, children under the age of three, African American women and people of certain cultures and religions.
Treatment for Amylophagia
The first step in treatment of amylophagia is admitting that you consume raw cornstarch. Many individuals will deny eating raw cornstarch when asked by medical professionals. Once you admit that you are eating it, your doctor may add a multivitamin to your daily regimen in hopes of correcting any vitamin and mineral deficiencies. Your doctor may also recommend behavioral and environmental treatment. If eating cornstarch is related to an underlying mental health condition, doctors will often prescribe medications to control this unhealthy behavior.