Save the inner thigh machine for the end of your workout, or don't use it at all. Incorporating plenty of free-weight leg exercises instead of leg-machine exercises will tone your inner thigh muscles better, reducing the lumps of inner thigh fat. Though you cannot decrease the number of fat cells anywhere on your body, including your legs, you can shrink the size of your fat cells by lowering your daily caloric intake to lose weight. Furthermore, lifting moderate to heavy weights to significantly build your adductor, quad and hamstring muscles will decrease the lumpy appearance of fat cells.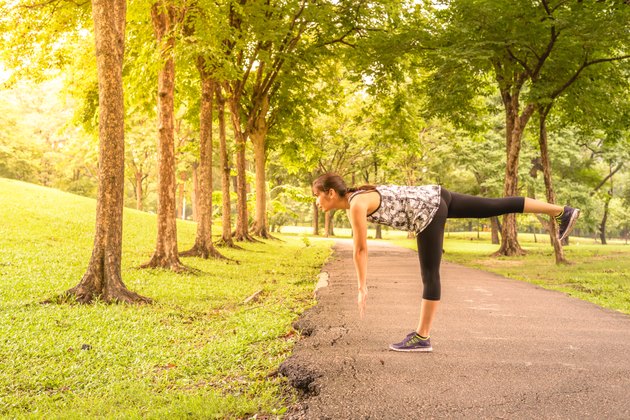 Step 1
Estimate the number of calories you eat in an average day. Subtract 250 to 500 calories from that number. Count and write down your calories every day to ensure you eat less and lose weight.
Step 2
Build up to a long cardio session of 45 to 60 minutes two days per week, improving the fat-burning capacity of your leg muscles to get rid of the lumps of fat on your inner thighs. Take a step-aerobics class instead of a regular aerobics class; stepping up and down engages your leg muscles more than exercising on a flat surface. On a treadmill, walk for two minutes, then run for two minutes, totaling 60 minutes of interval training on a treadmill at 2 percent incline.
Step 3
Incorporate sprint intervals one day per week to burn a tremendous amount of calories in a short period of time. Sprint on a treadmill for 30 seconds then walk for 90 seconds, repeating the cycle over 20 to 25 minutes. This type of training requires your leg muscles, including your inner thighs, to rapidly and forcefully contract during the 30-second sprints, getting rid of lumpy inner thighs.
Step 4
Complete lunges in every leg resistance training session one day per week. Do walking dumbbell lunges your first week, stationary barbell lunges your second week and lateral lunges your third week, activating your inner thigh muscles in multiple directions. Continue to alternate the types of lunges you do for all subsequent leg workouts.
Step 5
Perform dumbbell sumo squats at every leg workout. Interlace one end of a dumbbell between the fingers of both hands so it dangles under your pelvis; place your feet much wider than your shoulders and point your toes outward diagonally. Bend your legs until your thighs are nearly parallel to the floor, then push through your heels to stand back up.
Things You'll Need
Treadmill

Dumbbells

Barbell
Tip
Gradually increase the weight you use for leg exercises until it is challenging to complete six to 12 reps per set. This ensures you are building and toning your leg muscles, reducing the lumpy fat on your inner thighs. Write your workouts down to see your progress, enhancing your motivation to continue to exercise.
Warning
Do only one intense sprint workout per week to prevent overuse injuries; multiple sprint sessions per week exert an excessive amount of force, wear and tear on your joints.