Running a marathon requires a dedicated approach to training, including a running, strength training and nutrition plan. While most runners place an emphasis on the specific running workouts, your nutrition lays the foundation for an effective and safe training program. An important component to your nutrition is the number of calories consumed on a daily basis. In addition to eating a minimum number of calories, considerations include nutrient timing, macronutrient balances and the right types of foods.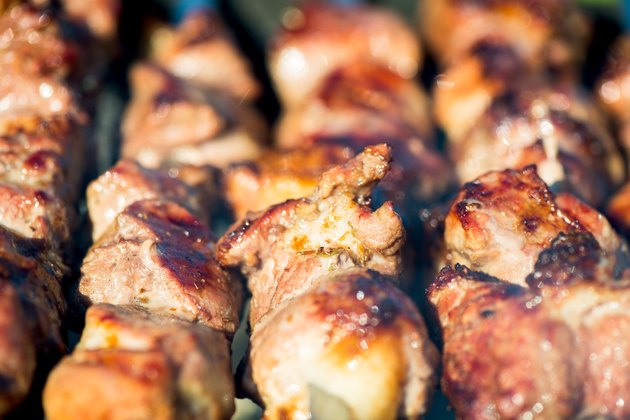 Calorie Needs
According to Hal Higdon, professional running coach, the average runner completing about 25 miles per week requires a daily caloric intake of about 2,500 to maintain adequate muscle glycogen stores. This daily caloric intake is dependent on body size, body weight, goals and activity levels. The overall goal of the daily caloric intake is to maintain a healthy body weight to support normal body functions throughout the training schedule. During peak training periods when mileage increases, the daily caloric intake must also increase to prevent excessive weight loss or nutrient deficiencies.
Macronutrient Balance
Along with consuming the right amount of calories, you must also split those calories accordingly among carbohydrates, fat and protein. Carbohydrates are the primary source of fuel during marathon training and receive most of the focus in traditional marathon training programs. Fat, however, is another energy source and supports the growth and development of body cells and hormones. Protein is also essential to support growth and development of lean muscle tissue along with hormone and enzyme production and proper immune function. Dr. Loren Cordain, author of "The Paleo Diet for Athletes," suggests endurance athletes consume about 50 to 60 percent of the total calories from carbohydrates while 20 to 25 percent comes from protein and the final 25 to 30 percent from healthy fats.
Before the Workout
Having the energy to complete the running workouts is a key to a successful marathon. As a result, your preworkout nutrition must be timed properly with the right types of foods to supply a steady flow of energy during the workout. To meet these demands, consume a small meal at least two hours before a workout containing low to moderate glycemic carbohydrates along with a small amount of fat and protein for a total of about 200 to 300 calories. Continue consuming about 200 to 400 calories per hour during the workout to maintain adequate energy levels.
Recovery
When the running workout is over, you must consume a balance of carbohydrates and protein to support a healthy recovery. Within 30 minutes of the workout, consume a postworkout recovery drink containing carbohydrates and protein at a balance of 4:1. For example, if the drink contains 80 g of carbohydrates, it should contain 20 g of protein. You can typically achieve this ratio by consuming a banana and drinking a protein shake mixed with fruit juice.