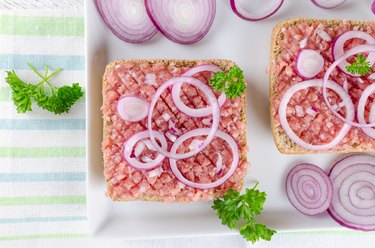 Ground meat is a versatile ingredient that you can cook in a number of different ways. If you're thinking of cooking with ground pork, here are some ideas that can help.
Tip
Ground pork meatballs, ground pork meatloaf and ground pork burgers are some of the most popular ways to cook this ingredient.
Cooking Ground Pork
Ground pork is pork meat that has been either ground or finely chopped. Depending on the manufacturer, some varieties are sold with seasoning and some are sold unseasoned. According to the USDA, 4 ounces of ground pork provides 249 calories, 17 grams of protein, 20 grams of fat and 69.5 milligrams of cholesterol.
If you're cooking with ground pork for the first time, these food safety tips will come in handy. The USDA Food Safety and Inspection Service (USDA FSIS) explains that you don't need to rinse it before you cook it; the cooking process destroys all harmful bacteria, making rinsing unnecessary.
The U.S. Department of Health & Human Services states that ground meats, including ground pork, need to be cooked to a minimum internal temperature of 160 degrees Fahrenheit in order to be considered safe for consumption. The USDA FSIS recommends using a food thermometer to ensure that the pork has reached this temperature.
While these measures may seem excessive, they can help ensure that you don't fall sick. A study published in the journal Epidemiology and Infection in October 2017 attributes 525,000 cases of infections and 2,900 hospitalizations in the United States to pork consumption every year.
Climate change may be exacerbating the problem. A study published in the journal Foodborne Pathogens and Disease in December 2014 notes that climate changes and the resultant higher temperatures enable harmful bacteria like salmonella to thrive. When it comes to food, you're better off safe than sorry.
Ground Pork Recipe Ideas
Here are some suggestions for how to cook ground pork.
Ground pork meatballs: Make a mixture of ground pork and spices like pepper, garlic, parsley and paprika. You can add egg and breadcrumbs to the mixture if you like. Shape the mixture into meatballs using your hands and place the meatballs on a lightly oiled baking sheet. Bake the meatballs in a preheated oven at 400 F. Serve ground pork meatballs with a sauce or roasted vegetables.
Ground pork meatloaf: You can use just ground pork for the meatloaf, or a combination of ground meats like pork and beef. Mix the ground meat with diced onions, ketchup, Dijon mustard, beaten eggs, breadcrumbs, salt and pepper. Shape the mixture into a loaf and cook it in a preheated oven at 350 F. Top the ground pork meatloaf with barbecue sauce halfway through if you want to give it a glaze.
Ground pork burgers: Combine the ground pork with some minced garlic, salt, pepper and dried sage. Shape the mixture into balls and flatten each ball into a patty. Grill the patties on a preheated grill over medium heat, until they are firm and stamped with grill lines. Serve the patties with whole wheat burger buns, sliced tomatoes and onions and some lettuce.
Was this article helpful?
Thank you for your feedback!