Eating more calories than you burn will help you get a bigger butt, but it may also lead to weight gain in other parts of your body. You can't concentrate weight gain in just one area -- where you gain weight is largely determined by your genetics. Vastly altering your proportions or general shape isn't a real possibility, but you can encourage your backside to be rounder and more muscular, even without weight training.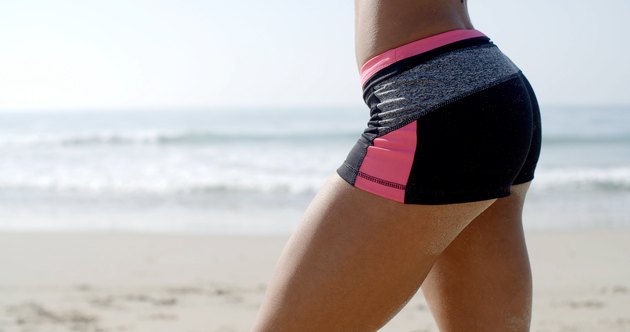 Realistic Expectations for Your Buttocks
About 70 percent of your body's proportions or shape are defined by genetics, reports Shape magazine. A taller pelvis creates a square-shaped butt, while a wide pelvis makes your backside seem wider. If your back is a bit more curved than usual, you may have a naturally lifted, round look to your buttocks. If you're a pear shape with a heavier lower body, petite waist and shoulders, weight will concentrate in your hips, thighs and buttocks. A person with an apple-shaped body experiences most of the weight gain in the belly, despite slim legs and diminutive buttocks.
Although genetics predominantly determines the size and shape of your rear, your diet and exercise routines do have some influence as to how much weight you gain in your tush and as to the subsequent roundness there. But with exercise, optimal nutrition and targeted toning, you can develop your healthiest body and maximize your backside's shape potential.
The Science of Weight Gain
You put on pounds when you consume more calories than you burn. Taking in about 250 to 500 calories more per day than you need to maintain your weight will lead to 1/2 to 1 pound of weight gain per week. Gain weight faster than this and you'll put on a fair amount of body fat, and some of it won't go to your booty.
In addition to eating more calories, some exercise is necessary. Without any exercise, two-thirds of every pound gained is pure fat. Too much body fat puts you at risk of developing chronic health conditions, including heart disease and type 2 diabetes. Overloading the muscles with weights is one way to help develop healthy muscle, but you can also use your own body weight and resistance tubing, especially when you're first starting out.
During pregnancy, women often gain a fair amount of weight in their buttocks for extra nutrient storage. This targeted weight gain is unique to the hormonal shifts that occur with carrying a child, but you can't necessarily expect this to occur at times other than pregnancy. This weight gain is perfectly acceptable and beneficial, as long as it's happening at a rate your doctor deems appropriate.
Building Your Booty
Body weight exercises stimulate your glute muscles and help develop their shape, so you can get a rounder, tighter appearance that isn't simply flab. Squats, lunges and step-ups target the gluteus maximus, your backside's largest muscle. Once these fundamental exercises become doable and you can easily complete 12 repetitions without soreness or fatigue, you can progress to additional exercises.
Jump squats -- in which you launch into a jump from a squat position and land back into the squat -- are a powerful way to build your behind. Perform bridges by laying on your back and planting your feet in the floor with your knees bent. Then, lift and lower your hips to work your glutes without weights. Increase the intensity by lifting one leg toward the ceiling as you raise and lower your hips; repeat this variation on both sides. Quadruped hip extensions, also known as donkey kicks or heel raises, also effectively activate your buttocks. Get down on all fours and press the heel of one foot up toward the ceiling, keeping your knee bent at 90 degrees. At the top of the contraction, squeeze your glute muscle. A resistance band stashes easily in your closet or a drawer. Pull out the resistance band to add challenge to your squats, side steps or stationary lunges.
Do each exercise for one minute in quick succession, rest for a minute and then repeat the circuit one or two more times for a full, glute-intensive routine. Perform cardio workouts for the minimum 150 minutes per week the Centers for Disease Control and Prevention recommends to promote good heart health and good respiratory health. Hill climbing on a treadmill, hiking outside or using a step climber works your buttocks and can help build muscle mass.
Foods for Weight Gain
Eating a lot of junk food will add calories to your diet, but not the healthy calories that promote well-being and muscle gain. Instead, add calories strategically with healthy options such as additional protein, unsaturated fats, starchy vegetables and whole grains.
Serve yourself an extra two ounces of roast chicken for 62 calories or flank steak for 92 calories; a cup of 1 percent milk with meals or cooked in hot cereal adds 102 calories. You can also use unsaturated fats, such as an avocado that has 227 calories per small fruit, olive oil with 124 calories per tablespoon and flax seeds with 72 calories per 2 tablespoons, to add calories to your salads and smoothies.
Other ways to boost calories moderately include choosing a large sweet potato instead of a small sweet potato, serving yourself an additional fist-full of brown rice or eating a handful of nuts between meals.