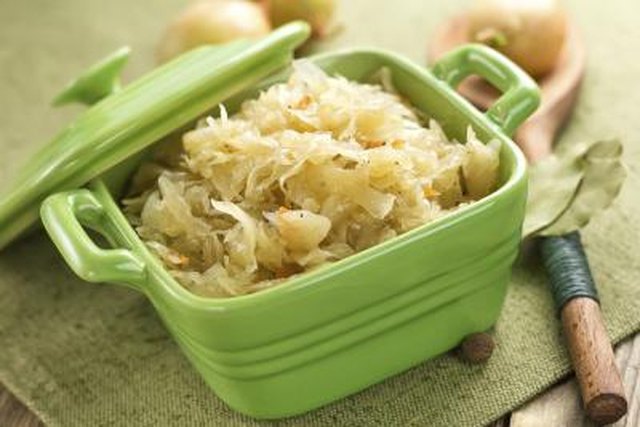 The United States' status as the world's melting pot comes with many advantages, including enjoying foods from cultures around the globe. Commonly considered a German dish, sauerkraut, or pickled cabbage, originated in China and remains a dietary staple in many Asian and European countries. Sauerkraut contains many healthful nutrients, but eating too much may cause short-term side effects and discomfort.
Salt
The pickling process used to make sauerkraut requires salt, or sodium chloride, which remains in the final product. A cup of sauerkraut contains approximately 940 mg of sodium. This amount equates to nearly 41 percent of the recommended daily sodium intake if you are otherwise healthy and younger than age 51. If you have high blood pressure or risk factors for the condition, a cup of sauerkraut contains 63 percent of the recommended 1,500 mg of daily sodium intake. Overindulging in sauerkraut can easily put you over your recommended daily sodium intake, which may cause short-term water retention, a rise in blood pressure, or both, especially if you have pre-existing kidney disease or high blood pressure. Choosing low-sodium sauerkraut, which contains approximately 435 mg of sodium per cup, helps to reduce your salt intake from this food.
Intestinal Gas and Bloating
Cabbage contains raffinose, a plant sugar that your small intestines cannot break down. When raffinose from sauerkraut reaches your colon, the normal bacteria there ferment the sugar; this process releases gas. Eating a large quantity of sauerkraut may cause a significant increase in the amount of intestinal gas and bloating of your abdomen. These unpleasant side effects resolve in a day or two after the sauerkraut completely traverses your gastrointestinal system. The over-the-counter enzyme alpha-galactosidase reduces the amount of gas formed in your colon from eating sauerkraut and other raffinose-rich vegetables.
Diarrhea and Abdominal Cramps
Eating too much sauerkraut may leave a large amount of unfermented raffinose in your stool if the sugar load exceeds the fermenting capacity of the bacteria in your colon. Undigested raffinose causes increased water in your large intestine, potentially leading to frequent loose stools or diarrhea. You may experience painful abdominal cramps along with the diarrhea.
Dietary Imbalance
If you eat a large amount of sauerkraut to the exclusion of other foods, you may not consume adequate amounts of necessary vitamins, minerals and other nutrients not found in sauerkraut. The most healthful way to enjoy sauerkraut is to include it as part of a well-balanced nutrition plan that includes a variety of vegetables, fruit, whole grains, low-fat dairy products and lean protein.