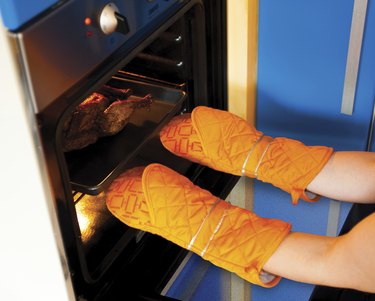 Chicken can be baked in the oven without using oil or butter. Use juice, wine and/or chicken stock in the baking dish instead, to flavor and moisten the chicken. Use chicken with or without skin. However, skipping the skin can cut calories and fat from your meal. For example, one boneless chicken thigh with skin contains 153 calories and 10 g of fat, while removing the skin will provide only 109 calories and 6 g of fat.
Step 1
Position the oven rack to the center. Preheat the oven to 375 degrees Fahrenheit.
Step 2
Rinse and pat dry whole chicken, chicken breast, thighs or other chicken parts, with or without the skin.
Step 3
Smear the chicken with 4 to 6 tsp. mustard. Optionally, use a mixture of mustard and mayonnaise or an herb mayonnaise.
Step 4
Place the chicken or chicken parts in a roasting pan without overlapping. If using chicken parts with skin, place the chicken skin side down on the dish.
Step 5
Sprinkle the chicken with chopped onions, salt and black pepper to taste. Pour 1 1/2 cups of orange juice into the dish. Optionally, use juice, chicken stock and/or red wine or a mixture of these.
Step 6
Bake for 30 minutes. Turn the chicken and baste once with the pan juices. Sprinkle with 1/4 cup of brown sugar. Bake for 15 to 20 minutes or until chicken is fully cooked. Bake chicken breast to 165 degrees and thigh and drumsticks to 175 to 180 degrees Fahrenheit.
Things You'll Need
3-lb. chicken

4 to 6 tsp. mustard

1/2 cup chopped onions

Salt

Black pepper

1 1/2 cups orange juice

1/4 cup brown sugar