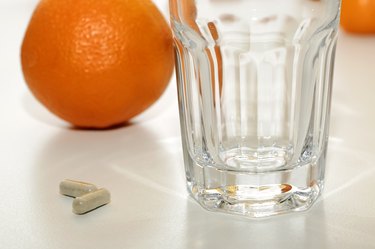 Vitamin C is a nutrient and antioxidant that your body uses for purposes that include protein processing, neurotransmitter production and the formation of a type of tissue called collagen. Use of this vitamin does not appear to raise the sugar, or glucose, content of your blood. In fact, vitamin C may help lower your blood sugar levels, in addition to reducing diabetes-related damage in your blood vessels.
Blood Sugar Effects
According to a 2006 study published in the "Indian Journal of Medical Research," a daily vitamin C intake of 1,000 milligrams in people with type 2 diabetes resulted in significant reductions in blood sugar levels. The same level of vitamin C supplementation also produced reductions in harmful LDL cholesterol, a blood-borne fat called triglycerides and an indicator for high blood sugar levels called glycated hemoglobin, or HbA1c. However, study participants who received only 500 milligrams of vitamin C did not experience notable reductions in blood sugar or these other substances.
Blood Vessel Protection
When glucose builds up in your bloodstream, it gradually damages the interior linings of your blood vessels and raises your potential for developing a wide range of serious health problems, including kidney disease, heart disease, reduced blood flow that leads to amputation and nerve damage in your eyes that leads to blindness. Even when diabetics control their blood sugar, problems associated with blood vessel damage can continue. According to a 2009 study published in the "Journal of Clinical Endocrinology and Metabolism," vitamin C and other antioxidant substances can halt this damage cycle in type 1 diabetics and lower some of the serious or fatal risks that diabetics commonly incur.
Side Effects
Vitamin C doesn't typically trigger major harmful effects, even when used at high dosages, the National Institutes of Health's Office of Dietary Supplements reports. Typical problems associated with vitamin C use include nausea, abdominal cramps, diarrhea and other gastrointestinal complaints. Postmenopausal women with diabetes may have an increased risk for fatal cardiovascular disease; however, doctors did not study this problem directly and don't know if a link between vitamin C consumption and heart disease actually exists. Other problems potentially linked to vitamin C consumption include kidney stone development, allergic reactions, erosion of dental enamel and DNA or chromosome damage.
Considerations
Foods that contain vitamin C — including citrus fruits and fruit juices — can raise your blood sugar. Adults have a maximum safe daily vitamin C intake of 2,000 milligrams, while teenagers have a safe maximum intake of 1,800 milligrams. Maximum doses for younger children vary with age. The authors of the study published in the "Journal of Clinical Endocrinology and Metabolism" note that people taking vitamin C supplements likely can't get enough of the vitamin to produce blood vessel-protecting effects. People with diabetes may have lower than average vitamin C levels, in addition to having a higher amount of cell damage related to the activities of particles called free radicals. Antioxidants like vitamin C combat the effects of these particles.
Consult your doctor for additional information on the links between blood sugar and vitamin C.