According to the American Council on Exercise, a compound exercise is one that works more than one major muscle group during the movement. Chest exercises that involve pushing motions utilize both the chest and triceps muscles. The chest muscles, or pectoralis major and minor muscles, are the primary movers, while the triceps are the secondary movers or stabilizers. There are certain exercises and techniques to incorporate into your program to emphasize both muscles during a single exercise.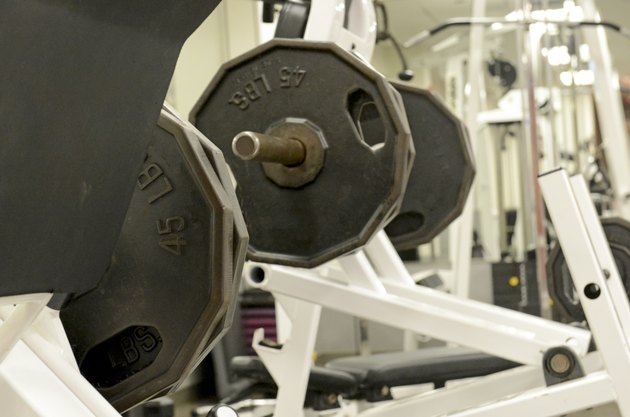 Dumbbell Chest Press
Lie on either a flat bench or an incline bench, which works your upper chest and anterior shoulders as well. Grab a 10- to 20-lb. dumbbell in each hand and hold them straight over your chest. Keep your palms facing the midline of your body so that the dumbbells are parallel with each other. Bend your arms, keeping your elbows close to your body the whole time. Slowly lower the dumbbells so they finish at ribcage level, then press them back up. Repeat for three sets of 10 to 15 repetitions.
Close Grip Bench Press
Lie on a flat bench. Grab a barbell and hold it over your chest, but position your hands so they are within 6 inches of one another. Bend your arms and lower the barbell to your chest, hold for a second, then push it back up. Do three sets of 10 to 15 repetitions. Close-grip bench presses target your triceps more than normal or wide-grip bench presses while also working your chest muscles.
Stability Ball Pushups
Stability ball pushups utilize the pectoral muscles, but since the ball is unstable, your triceps and shoulders act as secondary stabilizers. Place your feet on the floor with your hands on the top of a stability ball and do pushups, keeping your elbows close to your sides. If you are a beginner, either start with the ball up against a wall, or on your knees rather than your feet. Do three sets of 15 or until you fatigue.
Parallel Dips
Do this exercise on parallel bars, dip bars or an assisted pull-up machine, which are available at most gyms. Start on the bars with your arms straight, supporting the weight of your body. Proceed to bend your arms and lower your body down as far as you can. Press back up to finish in starting position. These are very difficult, so if you are a beginner, start on the assisted machine to adjust how much weight you dip, or keep one foot on a bench for support. Do 10 to 15 repetitions or repeat until failure.
Dumbbell Pushups
Place dumbbells of any weight on the floor parallel to each other. Get into pushup position and hold onto the dumbbells. Do pushups, keeping your elbows close to your sides. Executing pushups on dumbbells allows you to lower your body deeper than floor pushups, really targeting the chest and triceps. If you are a beginner, try these on your knees first, and then progress to your feet.