Human beings, like all living things, need water to survive. Water, which is essential to every cell and organ in your body, is a vital component in all aspects of the development, operation and maintenance of your body. Water makes up more than half of your body weight. Although water needs vary from person to person, health professionals recommend drinking 64 oz. of water every day. The recommendation is an approach to meeting your body's hydration needs.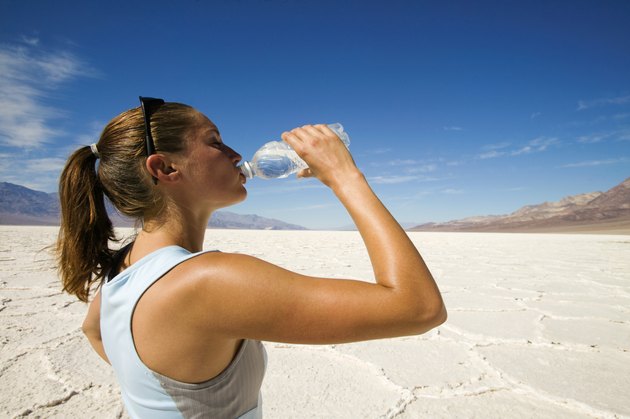 Properties
The properties of water help your body process nutrients and other substances. Water's surface tension makes it an excellent transport system. Scientists call water the universal solvent since it dissolves and passes through so many substances, carrying important nutrients and chemicals along as it travels.
Functions
The benefits of following the 8-by-8 recommendation include the many vital functions of water in your body. Water regulates body temperature, moistens the tissues in your body, lubricates your joints and protects your organs. Water helps move waste through the large intestines, prevents constipation and helps the liver and kidneys by flushing waste from your body. Water transports nutrients and other substances to your cells and converts them to usable form.
Water Volume
The percentage of water in total body mass and in various body parts is a good indication of the importance of water and the need to maintain the body's levels of water. Water accounts for up to 60 percent of the human body, 70 percent of the brain, 90 percent of lungs, 83 percent of blood and nearly 75 percent of lean muscle tissue. Water comprises 10 percent of body fat and 22 percent of the body's bone. The cells in your body, which perform so much of the body's work, have a large percentage of water.
Water Loss and Hydration
Water loss occurs when you urinate, defecate, perspire and breathe. Your body loses more water if you are ill, engaged in physical exertion or are in a place that is hot. Failure to replace lost water can result in dehydration. Hydration, which is the replacement of water to your body, occurs when you consume water, other fluids and foods. You need to replace at least 2.4 liters of water each day. The 8-by-8 hydration approach advises drinking eight 8 oz. glasses of water each day to equal a total of 64 oz. The 8-by-8 approach has the benefit of being easy to remember, easy to schedule into your day and easy to maintain.
Tips and Warnings
If you have a medical condition, take medications or are pregnant or breastfeeding, you might need to drink more water. Your doctor can help you to assess your water replacement needs. Foods, such as fruits and vegetables, and beverages can add to the amount of water you consume each day. Drinking too much water can lead to water intoxication, which is a dangerous and life-threatening condition.