Cellulose is the chemical name for fiber, which is an important component of diet, even though it doesn't provide you with any vitamins, minerals or energy. Many foods -- especially whole foods -- contain cellulose. Fruits, vegetables and whole grains -- those grains with the bran intact -- are significant sources of fiber.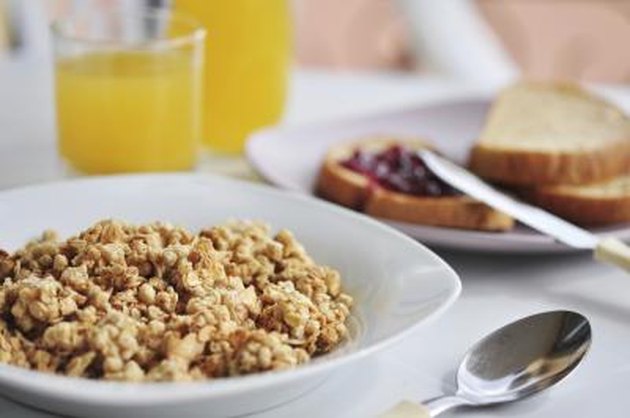 Cellulose
Cellulose is similar in chemical structure to starch, which goes by the chemical name amylose. Like amylose, cellulose is made up of long chains of glucose molecules, chemically bonded together. The only difference between the two, explain Drs. Reginald Garrett and Charles Grisham in their book "Biochemistry," is the shape of the bonds. Because of shape differences between the molecules, however, your enzymes can digest amylose but can't break down cellulose.
Cellulose in Foods
Cellulose in your food comes from plant material. Specifically, when you consume structural plant matter -- cellulose is a little bit like a plant's skeleton and also forms a protective layer around plant seeds -- you consume cellulose. As such, fruits and vegetables are excellent sources of cellulose, though juices are not, because they don't contain the fruit or vegetable's structural material. Whole grains, which include the protective seed coating, are also sources of cellulose.
Why Eat Cellulose
You need cellulose in your diet because while you can't digest it, it still performs valuable digestive roles. It helps increase the bulk in your digestive tract, for instance, which allows your intestines to function more efficiently and helps keep you regular. It also binds toxins and cholesterol, lowering cholesterol levels and might reduce your risk of developing colon cancer and Type 2 diabetes. Finally, it helps you feel full longer and can play a role in preventing blood sugar vacillations and excess caloric consumption.
How Much Cellulose
You should get plenty of fiber in your diet each day, but chances are you might not get it; Americans consume just 15 g of fiber per day, according to the Harvard School of Public Health. You need at least 20 g of fiber each day from foods, not from supplements. The more calories you eat, the more fiber you need. Men and teens may need more, between 30 to 35 g per day. If you're not eating enough fiber, you can purchase fiber supplements available at grocery and health food stores. However, because fruits and vegetables contain essential vitamins and minerals, it's a great idea to try to eat more produce if possible.