Carbs provide your body with fuel so you can lift weights and build muscle. Big servings of white bread, pasta and breakfast cereal aren't required for you to gain lean mass, though. A moderately low-carb diet that contains small servings of whole grains and starchy vegetables promotes muscle growth, too. Just be careful when structuring a low-carb plan; extremely low-carb diets that restrict you to 50 grams of carbs or fewer per day may make it harder for your body to put on muscle mass.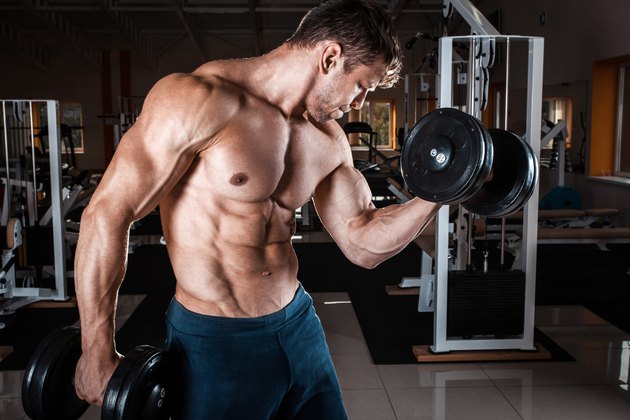 Muscle Growth and Carb Benefits
Carbohydrates provide fuel for your workouts, but they also help you recover afterward. Your body transforms carbs to glucose, which is stored in your muscles as glycogen -- the primary fuel source used during heavy lifting. Eating carbs after a workout refills these stores.
Carbs also help stimulate muscle building by activating the hormone insulin. When you consume carbs, your insulin level rises. Insulin is instrumental in facilitating blood flow to muscles so that nutrients can flood the fibers and accelerate growth.
When you ingest enough carbs, your body uses the glucose for energy to fuel organ, brain and metabolic function. When you're under-fueled, your body uses a complex process to convert muscle into energy. So, potentially, you can lose muscle on a low-carb plan.
According to a 2010 study in Current Opinion in Clinical Nutrition and Metabolic Care, carbs also stimulate the neurological system to keep your body focused and resistant to fatigue during workouts.
Very Low-Carb Diets and Performance
Very restrictive low-carb diets, also known as ketogenic, restrict you to 50 or fewer grams of carbohydrates per day and greatly increase your fat intake. These diets make significant muscle growth challenging. Such a diet can help you drop body fat, moderate blood sugar levels and, if you consume adequate amounts of protein, prevent excessive muscle breakdown often resulting from significantly low-calorie diets.
But, for a muscle builder, the ketogenic diet may not be the best option. A paper published in a 2004 issue of Nutrition and Metabolism noted that regular physical labor or recreational activity may not be impaired by a ketogenic diet, but those looking to improve athletic performance -- including weight lifters -- would experience limitations due to the low muscle glycogen levels that occur on such a plan.
When you severely limit carbohydrates, your body is fueled by fat and ketones -- chemicals the body produces for energy in the absence of glycogen. While some athletes swear by these fuel sources for building a buff body, research on the benefits of ketosis for muscle growth and strength production is lacking.
Moderately Low-Carb Plans
The standard American diet calls for 45 to 65 percent of your calories to come from carbs. If you're on a 2,500 to 3,000 calorie per day muscle-building plan, that's 280 to 480 grams of carbs per day.
So a moderately low-carb diet for someone actively seeking to build muscle could consist of 100 to 150 grams per day. This still gives you carbs to fuel workouts and promote repair and offers benefit from the blood sugar-stabilizing and fat-loss potential provided by eating fewer carbs. Remember that you count net carbs on a low-carb diet. These are digestible carbs that impact your blood sugar. To determine a food's net carb content, subtract the fiber grams from the carbohydrate grams.
The carbs you do eat should come from quality sources. You'll primarily focus on getting carbs from watery, fibrous vegetables and from nuts and seeds. But with a budget of 100 to 150 grams daily, you could afford a small serving of one or two other higher-carb foods at meals, such as 4 ounces of plain yogurt, 1/4 cup of winter squash or mashed sweet potato, 1/4 cup of raspberries and 1/4 cup of chickpeas.
Low-Carb for Muscle Growth
Your daily carbohydrate intake might consist of half of a small banana and 1/2 cup of frozen, unsweetened blueberries blended into a pre-workout smoothie with water and whey protein isolate for about 19 grams of net carbohydrates. After you exercise, enjoy 1/3 cup of oats cooked in water with two scrambled eggs on the side for 16 grams of net carbs and protein to help with muscle recovery. At meals, enjoy 1/2 cup of cooked brown rice, quinoa or mashed sweet potato for 17 to 20 grams of net carbs. Stick mostly to watery, fibrous vegetables, such as salad greens, cucumbers and broccoli to round out the day's carb requirements.
At most, expect to build half a pound to 1 pound of muscle per week. This requires 250 to 500 calories in excess of what you burn daily. After you've planned your carbs, fill in the extra calories with protein and healthy fats. The International Society of Sports Nutrition suggests 0.75 to 1 gram of protein per pound of body weight daily to support muscle growth. For a 175-pound person, this is 131 to 175 grams spread out over meals.
Add a moderate serving of healthy fats to most meals, too. For example, toss salad with 1 tablespoon of olive oil, add 1 tablespoon of coconut oil to a smoothie, grab an ounce of nuts as part of a snack or slice avocado onto a salad.