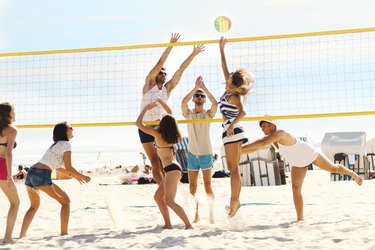 Volleyball is a physically demanding sport that takes skill and athletic ability. Pete Waite, author of "Aggressive Volleyball," adds that volleyball also is an entertaining game that many athletes choose for the opportunity to be active and connect with friends. Playing volleyball has several advantages and knowing what they are might motivate you pick up a ball and start serving, spiking and bumping.
Physical Activity
Playing volleyball is a healthy way to get some exercise. Regular exercise is crucial for your health because it helps keep your heart in good working order, as well as helping to prevent illnesses and diseases like cardiovascular disease, cancer and type 2 diabetes. Playing volleyball on a regular basis is one way to increase your physical activity level, which will help you get fit and toned, as well as healthy and energetic. Regular exercise also might help ward off depression and increase feelings of happiness and well-being.
Hand-Eye Coordination
Volleyball requires you to pay close attention to the ball so that you can use your arms and hands to come into contact with the fast-moving volleyball in order to send it flying over the net. Bob Miller notes in his book, "The Volleyball Handbook," that learning volleyball requires skills that help you connect with the ball as well as move in ways that allow you to prevent the opposing team from scoring points.
Social Interaction
Playing volleyball requires that you work with a team to score points and keep the other team from winning. This requires that you work well with your team and gives you valuable opportunities to interact socially with friends and acquaintances. Regular social interaction boosts your feelings of happiness and helps you feel as if you are a part of a group working toward a common goal. Spending time with friends also makes you feel valued and loved, which translates into happiness.
Sportsmanship
Acting as part of a team requires that you learn good sportsmanship and how to work well with others. Playing volleyball gives you these advantages by requiring you to pay attention to what your team members are doing so you can work together to anticipate the moves of the opposing team. Playing on a team also teaches the value of hard work and fairness. Volleyball is a competitive and physically demanding sport that depends on how well you accept defeat, as well as how graciously you win.