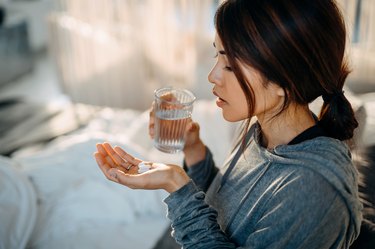 Zinc is an important nutrient that supports your immune system and metabolism, aids in wound healing, helps you taste and smell properly and can be used to treat colds, according to the Mayo Clinic. In short, you need zinc to stay healthy, so it's important you're getting enough.
Unlike some nutrients, zinc can't be stored in your body, so you need to ingest a certain amount daily. Here's how much zinc you should be getting, where to find it, who's at risk for zinc deficiency and what you should know before you take zinc supplements.
Tip
The recommended daily amount of zinc is between 8 and 11 milligrams for the majority of adults, per the Mayo Clinic, and most people are able to get this amount through their diet.
Exactly how much zinc you need each day depends on factors including your sex, age and pregnancy status, according to the National Institutes of Health (NIH). In general, infants need the least while certain teenagers need the most.
Here's the full breakdown of how much zinc you need daily:
How Much Zinc Do I Need?
| Age or Life Stage | Recommended Amount |
| --- | --- |
| Babies up to 6 months | 2 mg |
| Children ages 7 months to 3 years | 3 mg |
| Children ages 4 to 8 | 5 mg |
| Children ages 9 to 13 | 8 mg |
| Teens ages 14 to 18 | 9 to 11 mg |
| Adults assigned male at birth | 11 mg |
| Adults assigned female at birth | 8 mg |
| Pregnant teens | 12 mg |
| Pregnant adults | 11 mg |
| Breastfeeding teens | 13 mg |
| Breastfeeding adults | 12 mg |
Zinc is found in a wide variety of foods, and most people are able to get plenty from their diet, per the NIH.
Oysters
Certain fortified cereals
Beef and pork
Tofu
Turkey
Lentils, chickpeas, black-eyed peas and green peas
Yogurt
Oatmeal
Squash and pumpkin seeds
Other popular foods that contain zinc in lower amounts include spinach, cashews, avocado and eggs.
Beyond food, zinc is found in many over-the-counter supplements, including most multivitamins as well as standalone zinc supplements. It is available in three forms — zinc gluconate, zinc acetate and zinc sulfate — and it's not clear whether one form is better than another.
Most people get sufficient amounts of zinc in their daily diet, but certain people are at risk for a deficiency, per the NIH:
Vegetarians
People with alcohol use disorder
Those with digestive disorders such as Crohn's disease or ulcerative colitis
People who have has gastrointestinal surgery, such as weight-loss surgery
Those who have sickle cell disease
People who are pregnant or breastfeeding should also pay attention to how much zinc they're getting, as they require higher amounts.
Who Should Take a Zinc Supplement?
If you fall into one of the above categories, you may want to talk to your doctor about taking a supplement, to make sure you're getting the recommended daily dose of zinc.
Even if you don't have a zinc deficiency, you may benefit from taking a zinc supplement in the following situations, according to the Mayo Clinic:
​You're getting a cold:​ When taken within 24 hours of symptom onset, zinc lozenges or syrup may shorten the length of a cold.
​You have an open wound:​ If you're low on zinc and have skin ulcers, a supplement could help with healing.
​You've got age-related macular degeneration:​ Taking oral zinc may help slow the progression of this eye disease.
Zinc Supplement Safety and Side Effects
While zinc supplements are generally considered safe, per the Mayo Clinic, you should always talk to your doctor before adding a supplement to your routine, as it comes with certain risks and can interact with medications you're taking.
Headaches
Nausea and/or stomach cramps
Vomiting and/or diarrhea
Loss of appetite
Decreased copper levels
Decreased immunity
Lower levels of HDL ("good") cholesterol
What's the Maximum Amount of Zinc You Should Get Per Day?
| Age or Life Stage | Maximum Daily Dose |
| --- | --- |
| Babies up to 6 months | 4 mg |
| Babies ages 7 to 12 months | 5 mg |
| Children ages 1 to 3 | 7 mg |
| Children ages 4 to 8 | 12 mg |
| Children ages 9 to 13 | 23 mg |
| Teens ages 14 to 18 | 34 mg |
| Adults | 40 mg |