Wild game is an alternative to the usual meats -- such as beef, pork or chicken -- which you can find in the supermarket, or you can kill it yourself if you like to hunt. Moose meat can be a nutritious option if you prepare it using healthy methods. Moose can be roasted, cooked in a crock-pot or ground to be used in recipes other ways. Always cook your wild game thoroughly before eating it, and eat it as part of a balanced overall diet.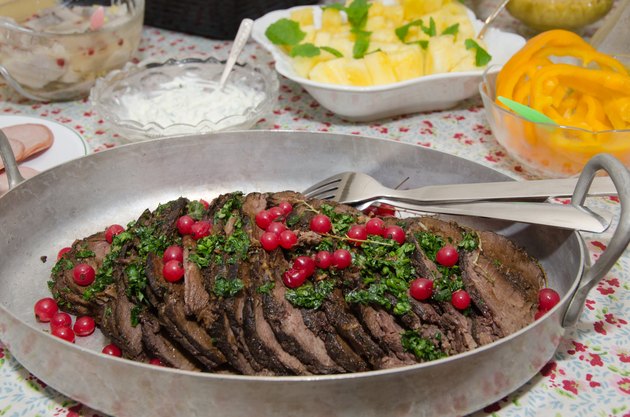 Nutritional Overview
Moose meat has 102 calories in a serving of 100 grams, or about 3.5 ounces, and it has 22 grams of high-quality protein with each of the essential amino acids that you need to get from your diet. Moose meat is carbohydrate-free. A 100-gram serving of moose meat has 5 milligrams of niacin, or 25 percent of the daily value for niacin, or vitamin B-3. It has 0.3 milligrams of riboflavin, or vitamin B-2, or about 17 percent of the daily value. The B vitamins help your body metabolize foods and make red blood cells.
Fat Content
Moose meat is a lean source of protein because it has less than 1 gram of total fat per 100-gram serving, and less than 0.5 grams of saturated fat. Saturated fat raises levels of bad LDL cholesterol in your blood, and moose meat is a healthier choice than fatty meats, such as steak. A serving of moose meat has 59 milligrams of cholesterol, so monitor the amount of moose meat you have if you are trying to reduce your cholesterol intake. Cholesterol from your diet raises your blood cholesterol levels, and healthy adults should have no more than 300 milligrams per day.
Sodium and Potassium
A low-sodium food has less than 140 milligrams per serving, according to the Cleveland Clinic, and moose meat has only 65 milligrams in a 100-gram serving. It provides 317 milligrams of potassium. A diet low in sodium and high in potassium can help you maintain a healthy blood pressure and lower your risk for heart disease, stroke and kidney disease, according to the 2010 Dietary Guidelines from the U.S. Department of Health and Human Services. Healthy adults should have no more than 2,300 milligrams of sodium and at least 4,700 milligrams of potassium per day.
Other Minerals
A 100-gram serving of moose meat provides 9 milligrams of selenium, or 17 percent of the daily value for this essential mineral. Selenium is a heart-healthy nutrient because it promotes the antioxidant activity of nutrients such as vitamin E and vitamin C. Moose meat has 3 milligrams of iron, or 17 percent of the daily value for iron, which is a part of healthy red blood cells and a strong immune system. Zinc also supports immune function, and a 100-gram serving of raw moose meat supplies 2.8 milligrams of zinc, or 19 percent of the daily value.