If your legs feel heavy after a workout, it can mean one of two things. Either you have not done proper preparation for your exercise regimen or you have targeted your leg muscles to the point of muscle fatigue. In either case, you can tailor your exercise program to reduce leg muscle soreness, heaviness or fatigue after working out. If you are experiencing extreme muscular discomfort, speak with your doctor.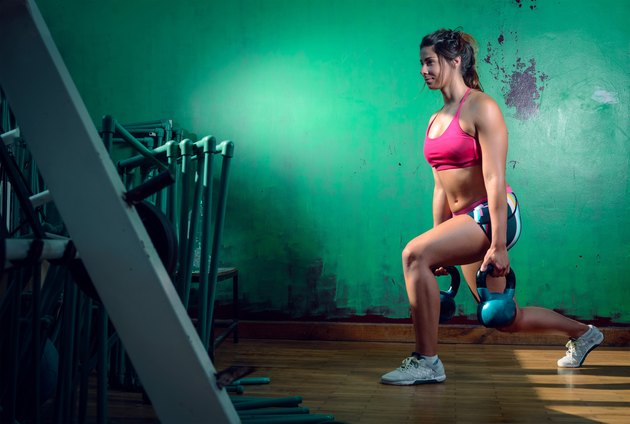 Don't Be Shocked
Choose shoes that suit your workout but also provide protection from the shock of high-impact aerobic activity. If you are doing dance or other workouts that require quick stops and turns, you want a shoe with more flexibility and lightness but still enough thickness in the sole to absorb the shock to your leg muscles and tendons. If you are walking or running, select a shoe that fits well and has cushioning around the ankle and foot bed.
Before You Start
Warm up properly before you work out. Instead of starting with leg stretches, lubricate your muscles, joints and tendons by doing a low-level aerobic activity. Walk or march in place, gradually bringing your knees higher and pumping your arms more vigorously. You elevate your heart rate which makes you breathe more deeply. This process pumps more oxygen into your bloodstream and increases blood flow, delivering more oxygen to your muscles. After 10 minutes, your leg muscles should be warm enough to do leg stretches.
Tweak Your Routine
If your legs feel heavy every day, you may need to tweak your exercise routine. Fast runners and other people who engage in anaerobic exercise need to rest their leg muscles between intense workouts. Vary your type of workout and its intensity. If you do speed intervals or sprinting one day, do a longer but more moderately paced workout the next day. If you climb steep hills or do several squats and lunges, spend the next day swimming or doing strength training that targets your upper body and core muscles. It's not uncommon to rest on two non-consecutive days a week to give your muscles time to rest and recover.
It's All Downhill
Spend at least 10 minutes after exercising doing a cool-down activity. Gradually slow your pace of your workout. Move fluidly and breathe deeply to keep your blood pumping. Gently stretch your legs by sitting on the ground or standing and reaching towards your feet with your hands. If you feel any muscle cramps or fatigue, massage the muscle. If your muscles feel tense after a cool down, use an ice pack to cool them or a heating pad to warm them.