Although weight loss offers numerous health benefits, you probably wouldn't be as interested in losing weight if you thought doing so would make your body look worse. Weight loss doesn't typically make your belly look flabbier, but if you lose a large amount of weight, you may be stuck with loose skin that can be temporary or permanent.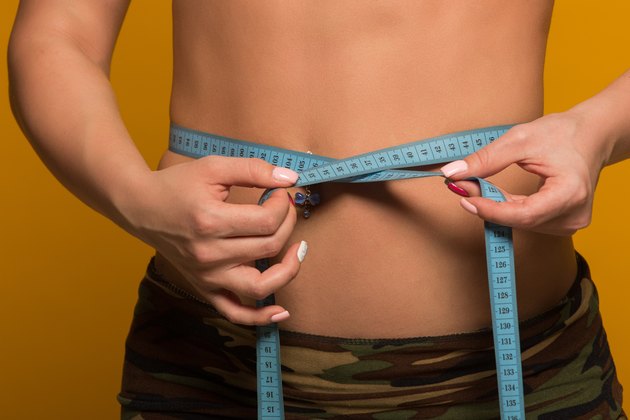 Belly Flab and Weight Loss
It's impossible to lose weight in a single area of your body. Instead, you'll have to diet and do plenty of cardio steadily to see results. If you tend to accumulate fat along your belly, it might take longer to lose this fat. Consequently, as you slim down in other areas of your body, your stomach can look proportionally larger, leading to the illusion of excess flab. Rest assured, the problem isn't that you're gaining weight. It's just that you haven't lost enough weight to see a change in your stomach.
The Importance of Muscle
If you've focused all your efforts on cutting calories from your diet, your body might begin burning muscle as a source of fuel. If you had strong stomach muscles before, this could cause your stomach to look flabbier and less toned, even if you're not gaining weight. Avoid crash diets, and focus on balancing cardiovascular exercise with strength-based exercises.
Loose Skin After Weight Loss
As you gain weight, your skin has to stretch to accommodate the excess fat. When you lose the weight, your skin can remain stretched. For some people, the skin returns to its normal texture over time, but others are left with skin that looks loose and flabby. A healthy diet and exercise can help, but the only sure-fire way to eliminate loose skin is to undergo body-contouring surgery. Talk to your doctor, as this surgery can be risky, and loose skin doesn't pose any health risks.
Minimizing Flab
The key to shedding fat is to get plenty of cardiovascular exercise such as cycling and running. But for the best results, you also need to strengthen the muscles of your stomach. According to the American Council on Exercise, the bicycle crunch, captain's chair maneuver, crunches on an exercise ball and reverse crunches are among the most effective ab-toning exercises.