Your abdominal muscles support your body as you move throughout the day. The rectus abdominis is also referred to as the "six pack." This muscle responds to exercise with improved strength and you can perform stomach strengthening exercises on a daily basis. The American Council on Exercise recommends five minutes of daily exercises that target your rectus abdominis. Complete 10 to 20 repetitions and two or three sets of each exercise. As your strength improves increase the number of sets and decrease your amount of rest between sets.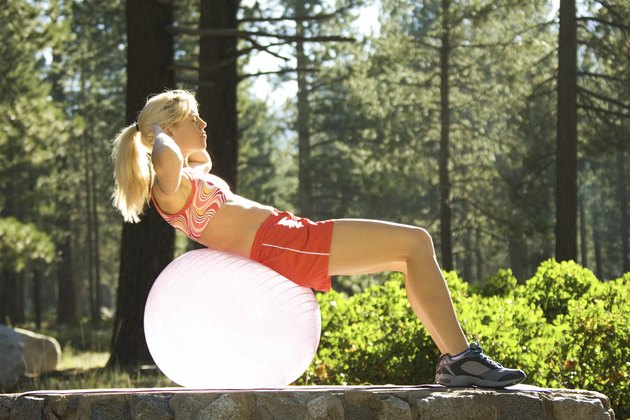 Movement Analysis
Your rectus abdominis controls the movements of your pelvis which affects the curvature of your spine. This muscle begins on your ribs and connects at the bottom of your pelvis. Since this muscle runs the length of your stomach, full range of motion exercises are most effective to strengthen and tone the rectus abdominis. To strengthen this muscle, do exercises that shorten the distance between your ribs and pelvis.
Situps
Situps are a standard rectus abdominis strengthening exercise. Perform a situp lying on your back with your knees bent and hands behind your head as you lift your shoulder blades off the floor. Variations on the situp include adding a knee lift or a torso twist as you raise your upper body off the floor.
Stability Ball
An exercise stability ball provides an unstable surface for rectus abdominis training. Situps are performed on the ball and allow you to lower your upper body beyond a parallel position to increase the range of motion during abdominal training. Use the ball for an increased challenge during abdominal strengthening and lie face down on the ball. Begin a knee tuck by placing your hands on the floor with your arms straight and then walk your hands away from the ball until the ball is against your shins. Perform the tuck by bending your knees and rolling the ball toward your chest.
Static
Static or non-movement contractions are also used to strengthen your rectus abdominis. While sitting or lying down use an isometric contraction and tighten your stomach by pulling your navel toward your spine. A plank is also used to strengthen your core. Begin a plank on your hands and knees with your arms straight underneath your shoulders. Your legs straighten behind you and your toes rest on the floor. Perform the plank by lowering your hips to bring your body into a straight line and maintain this position for a count of 10.