You can experience indigestion when you drink coffee or from an underlying medical condition. Coffee increases stomach acid production, which could lead to indigestion as a normal side effect, or indigestion can occur as a result of gastroesophageal reflux disease, also called GERD. Your symptoms should not last more than a few hours. If your symptoms continue for more than a day or they continue to get worse, call your doctor. Coffee contains caffeine, a naturally occurring stimulant drug that could cause negative side effects when consumed in excess or ingested with certain medications.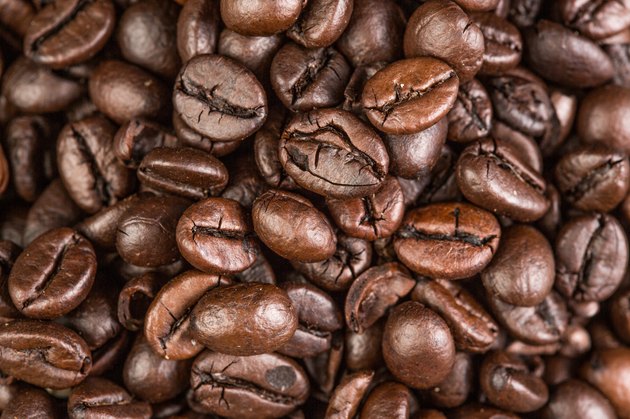 Indigestion Definition
According to the National Digestive Diseases Information Clearinghouse, indigestion commonly occurs among adults, sometimes on a daily basis. Most healthy adults experience indigestion on occasion, especially after overeating or eating spicy or highly acidic foods. Indigestion causes the feeling of fullness as you eat a meal, or the burning or pain that occurs in the upper portion of your abdomen. In some cases indigestion may cause bloating, gas and stomach pain. If you develop indigestion every time you drink coffee, you most likely have another medical condition causing the symptom.
Normal Side Effects
Because coffee contains a lot of caffeine, you may develop indigestion as a normal side effect. Caffeine affects your central nervous system and, as an ingredient in coffee, tea and chocolate, it increases stomach acid production. If you drink too much caffeine you can develop heartburn, stomach pain, diarrhea, belching, lightheadedness, nausea, vomiting, irritability and sleeplessness, according to Michigan State University. Cut your daily coffee consumption in half to see if that helps reduce your symptoms. People with a greater sensitivity to the acid and caffeine content of coffee may need to avoid the beverage.
Gastroesophageal Reflux Disease
GERD causes stomach fluids to backwash into your esophagus. The main symptoms of GERD include burning in your throat, heartburn and nausea, according to PubMed Health. Certain foods can trigger GERD symptoms, such as drinking coffee or fruit juices and eating chocolate. Treatment for GERD includes over-the-counter antacids and other medications. Talk with your doctor before using any medication to treat a medical condition.
Warning
If you develop other symptoms, such as a headache, severe stomach pain and chest tightness, call your doctor. You may have an allergy or intolerance for one or more of the ingredients commonly found in flavored coffees, such as dairy, nut oils or gluten.