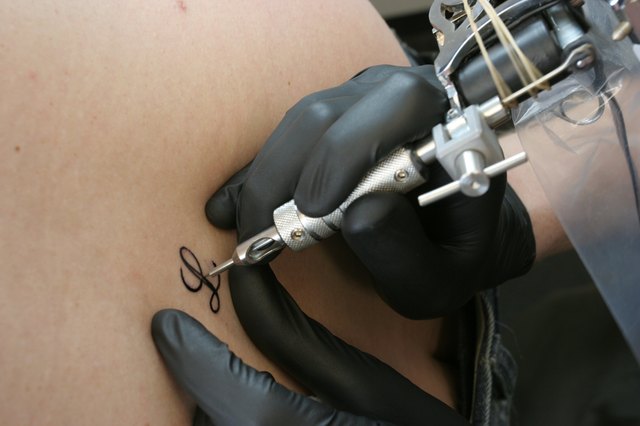 It is okay to exercise after getting a new tattoo, but you should avoid sun, soaking, stretches and sweat to allow it to heal properly. Follow aftercare instructions by keeping your tattoo moist, covering it with a bandage and possibly making some slight changes to your exercise routine. Monitor how you feel and the condition of your skin during physical activity to protect your tattoo from excessive irritation which can cause scabbing.
Immediate Aftercare
Exercise should be fine 24 hours after getting a tattoo if there is no discomfort, but make sure you follow appropriate aftercare instructions so it properly heals. Keep a bandage on the area for 24 hours. Clean your tattoo with antibacterial soap and pat it dry with a towel. You should use an antibiotic ointment on the tattoo in addition to an unscented lotion for moisture. Do not take a bath, sit in a hot tub or swim for two weeks after getting a tattoo.
Moisture and Scabbing
It is normal for you to have dry skin that peels after you get a tattoo. The most important thing is to keep the area moist to prevent cracking and scabbing. Dry skin may be especially uncomfortable and prone to cracking during exercise as you may be moving in a way that pulls and irritates your skin. Your tattoo artist may recommend a moisture product, or there are numerous over-the-counter ointments and lotions that you can use.
Post-Ink Exercise
Try to avoid exercises that pull and stretch your newly tattooed skin. For example, if you got a new tattoo on your chest, certain weightlifting moves may be irritating. Regardless of the type of exercise you do, apply your moisture product and cover the area with a bandage to reduce irritation and abrasion. Shower right after your workout so you can wash off any sweat and salt that can be potentially irritating. Finally, avoid contact sports if possible until you are fully healed to reduce the risk of skin abrasion.
Limit Sunlight
Don't expose your tattoo to sunlight until it is fully healed. If you are exercising outdoors, simply wear a clothing item to cover up the area. For example, if you have a tattoo on your shoulder and you are heading outdoors for a jog, wear a loose t-shirt to cover the area. After your tattoo heals, wear an SPF 30 or greater sunscreen to reduce fading if it will be exposed to sunlight.