Busy teenage girls might think there isn't time to add weight training to their workout routines. But adding a small amount of weight training can provide some big benefits. Kidshealth.org recommends teen girls add strength training to a balanced exercise routine of aerobic activity and flexibility to increase strength, muscle mass and overall physical health.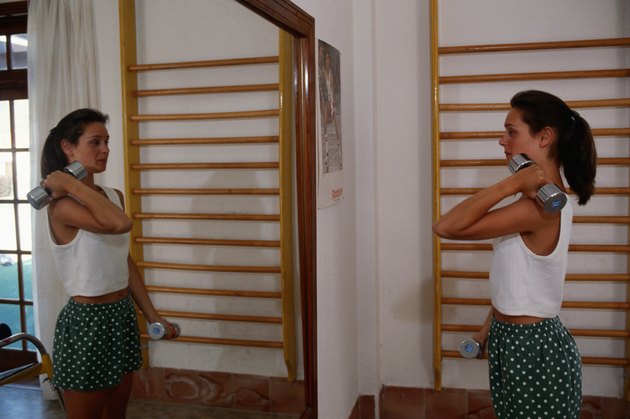 A Little Weight, A Lot of Benefits
When the average teenage girl thinks of weight training, she probably pictures a perfectly muscular body on a beach somewhere. But training with weights for teen girls has nothing to do with body building and everything to do with better health. According to the American Academy of Pediatrics, proper strength training can increase a teen's muscle strength and endurance, help protect the muscles and joints from sports-related injuries and improve performance in nearly all sports, including dance and figure skating. Weight training strengthens bones, promotes healthy blood pressure and cholesterol, helps teen girls maintain a healthy body weight and improve their confidence and self-esteem.
Proper Form Brings Better Results
The teenage body is still developing, so it is important to use weights properly to decrease the risk of injury. The University of Rochester Medical Center recommends starting slowly and increasing gradually when it comes to working with weights. They also suggest beginners start with bodyweight exercises like pushups and sit-ups. These moves use the body's own weight as the resistance and help to strengthen the core for more advanced exercises. It is also important to use proper technique when weight training, as well as working different muscle groups on different days. Teen girls need no more than eight to 12 repetitions of each exercise on alternating days for maximum benefits.
Warm Up to Weight Training
Warming up the joints and muscles before exercising with weights decreases the risk of injury while training. The Kidshealth.org website recommends warming up with aerobic activity and dynamic stretching before training. The website also suggests doing strength training for 20 to 30 minutes two or three times each week with at least one day off in between for adequate rest. Another important part of weight training is doing each exercise properly. A school coach or personal trainer can help your daughter understand how to do each exercise in her routine safely. And if she feels pain or hears a popping noise while training with weights, it is important she sees a doctor to rule out an injury before using weights again.
Boost Energy and Self-Esteem
Puberty, hormonal changes and growth spurts often make exercise challenging for teen girls, as energy levels seem to change on an almost daily basis. But regular exercise with strength training can actually increase a teen's energy level as well as her overall self-esteem. According to "USA Today," a Harvard Medical School study found that girls who gained weight during the pre-teen years did so mostly due to growth, but teen girls who had reached their full maturity and continued to gain weight were more likely to be unhealthy. Proper training with weights as well as regular aerobic activity and flexibility training can help teen girls maintain a healthy body weight and establish habits that will keep them healthy and moving throughout their lives.