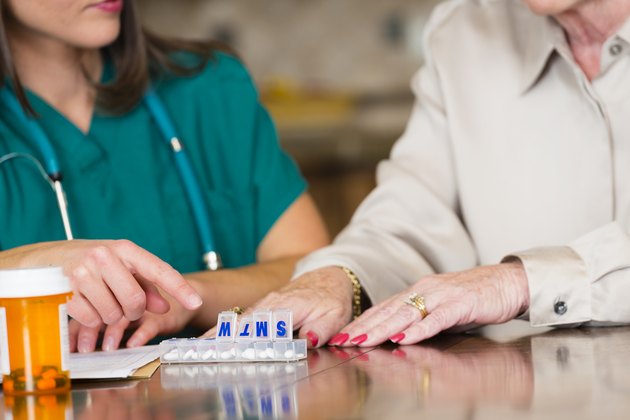 Holistic nutritionist certification provides wellness courses based on mental, physical and spiritual premises. Holistic medicine differs from traditional medicine in that holistic medicine does not allow for artificial chemicals during treatment of any patient. Students obtaining the certification will be prepared to assist individuals in eating healthfully to retain a balanced self.
Education Prerequisites
Students who want to obtain a holistic nutritionist certification need a high school diploma or equivalent. Professionals in the medical field who wish to enter the natural health industry can enroll for additional certification in holistic nutrition. Most schools that provide this type of certification do not require any advanced application techniques, however, some programs offered at colleges in the United States require an entrance interview prior to admission.
Coursework for Certification
The standard holistic nutritionist certification is a 12-month program that focuses on healing. Eastern and Western medicines are studied for their philosophies relating to holistic health. The curriculum focuses on the fields of nutrition and supplements, vitamins and minerals, holistic principles, biology, nutritional assessment, herbology and weight management techniques.
Career Outlook
A certificate in holistic nutrition can be used for careers in holistic nutrition consultation or wellness education. Students who advance their certificate with additional education may work in advanced holistic health and nutrition or dietician sectors. According to education-portal.com, these positions require a bachelor's degree in addition to the certification and license. The U.S. Bureau of Labor Statistics states growth for the nutritionist sector will increase by 9 percent between 2008 and 2018. The statistics show a 1 percent increase in the industry in a 10-year period. Overall there is a positive growth potential for employment.
Additional Education and Training
The Holistic Nutrition Credentialing Board oversees the National Association of Nutrition Professionals (NANP). They require a certifying examination before any student can work in a holistic nutrition field. Membership to the NANP requires proof of 500 hours of experience and a passing score on the certificate exam. Graduates who wish to continue need this membership and the certification to enter into an associate's, bachelor's, master's, or doctorate field.
Anyone who pursues continuing education can obtain training in food nutrition, chemistry, metabolism, psychology and biology. In addition, those undergoing training and education programs need to work in a public practicing location with a state license. The state license is in addition to the certificate program and examination one has to take to work within a nutritionist office or as a self-practicing consultant.