Extreme exertion from running can cause bruises on the legs. Bruises result from broken blood vessels that bleed into the tissue under the skin. After blood vessels break, the clots of blood remain under the skin, leaving a reddish-purple mark that the body removes through a series of chemical reactions. The bruise can be painful and cause swelling.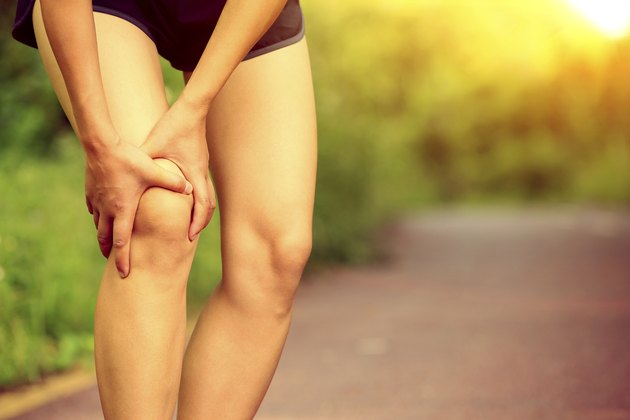 Causes of Bruises
Running requires bursts of speed that can strain leg muscles leading to bruising. According to MedlinePlus, bruises can result from injuries to the skin, muscle or bone. While most bruises are caused by injury, Dr. Ray Sahelian, an author on herbal health, points out easy bruising might be caused by consuming excessive amounts of fish oil, ginger, garlic or ginkgo biloba, all of which can thin the blood. The bruising can also be caused by medical conditions including anemia.
Treating Bruises
For minor bruises, apply ice wrapped in a towel or cold packs as soon as possible and elevate the leg. The cold will help reduce any swelling. Ice packs can be applied for 10 minutes, then removed for 30 to 60 minutes repeating several times during the first day. According to MedlinePlus, elevating the leg above the heart keeps blood from collecting in the bruised tissue. Try to avoid hitting the bruised area again.
Herbal Treatment
An herbal preparation of arnica, the dried flowers of Arnica montana, may be applied to the skin to treat bruises. According to the University of Maryland Medical Center, arnica has been used since the 1500s by Europeans and American Indians to reduce inflammation and swelling and to promote wound healing. Arnica should not be applied to cuts or abrasions and skin irritations may occur with prolonged use.
Reducing Risk for Bruising
Before running, stretch out the muscles to prevent injury. Good nutrition provides needed vitamins to strengthen and maintain the cells of blood vessels and provide oxygen to leg muscles, skin and bones.Vitamin C promotes wound healing and strengthens blood vessels while vitamin E strengthens capillary walls and rejuvenates blood. Most fruits and vegetables provide vitamin C and wheat germ, whole grains, seeds and nuts are good sources of vitamin E. According to a 2005 issue of Physical Medicine and Rehabilitation Clinics of North America, up to 80 percent of female athletes are iron-deficient and daily iron supplementation is recommended for long-distance female runners to prevent anemia.