Thick, hearty beef stew doesn't happen by itself. You must take care to thicken the broth or you will have a beef soup instead of a savory beef stew in a thick gravy. Deciding how to thicken the beef stew takes thought because the thickening agent that you use might change the flavor of the stew. Choose the method that works best for your tastes, or combine them all for a very thick, chunky stew.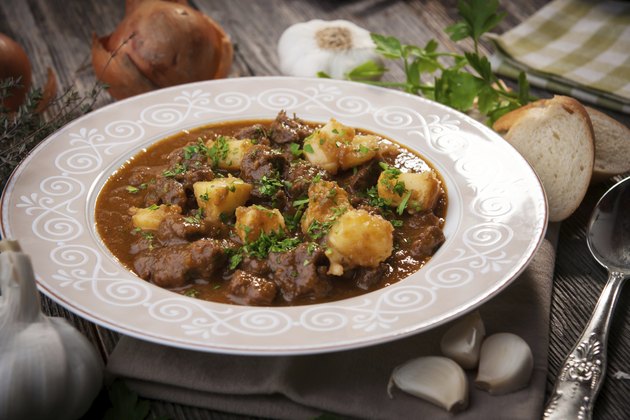 Step 1
Add 2 tbsp. flour to 2 cups of water in a bowl and whisk the flour into the water until the flour is integrated and forms a cloudy fluid. Add the flour and water to the stew when you begin to simmer the vegetables and beef, right after they are added. Stir with a slotted spoon to combine the flour solution with the stew broth. The flour will slowly thicken the stew as the water boils down, and it will not change the flavor of the stew substantially.
Step 2
Use a slotted spoon to remove approximately half of the vegetables. Place the vegetables in a food processor. Add 2 cups of the stock to the vegetables and puree the vegetables. Add the vegetable mixture back into the stew and bring the stew back to a simmer. Do not puree all of the vegetables or the stew will taste more of vegetables than beef.
Step 3
Remove 2 cups of broth from the stew. Add 2 tbsp. cornstarch to the 2 cups of broth in a bowl and whisk until the cornstarch is integrated with the broth. Add the broth solution back to the stew. Stir the stew with a slotted spoon to combine the cornstarch and broth with the stew. Cornstarch will add a subtle corn flavor to the stew but you are not likely to notice it if you have included a lot of vegetables. Simmer the stew for two more minutes.
Things You'll Need
2 tbsp. flour

2 tbsp. cornstarch

4 bouillon cubes, optional

1/2 cup beef broth, optional

Bowl

Wire whisk

Food processor

Slotted spoon
Tip
If you pureed the vegetables and do not like the resulting vegetable flavor, add four beef bouillon cubes to the stew to bring back some of the beef flavor.
If the resulting stew is too thick, add 1/2 cup of beef broth to thin it.