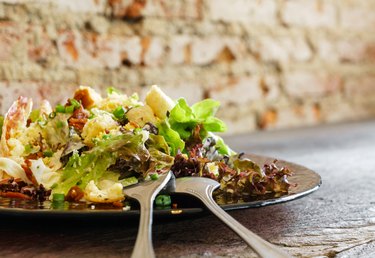 Applebee's is a casual dining restaurant offering a variety of menu choices, from pasta and burgers to chicken and steak. Although many items are high in calories, fat and sodium, the restaurant also offers healthier meals with less than 550 calories. With any entrée, you can substitute a side salad -- house or Caesar -- in place of French fries. Applebee's Caesar side salad is also available in a larger size as one of the restaurant's lunch combo selections.
Ingredients
Applebee's Caesar salad is made with romaine lettuce, challah croutons, shaved Parmesan cheese and garlic Caesar dressing.
Serving Size
Applebee's lists the nutritional information for its Caesar salad "as served" for both the side salad portion and the larger lunch combo portion. Both sizes are typically eaten by one person, rather than shared with others.
Nutrition Facts
The small Caesar side salad has 90 calories, 3.5 g of fat, 1.5 g of saturated fat, 10 g of carbohydrates, 3 g of fiber, 5 g of protein and 125 mg of sodium. In comparison, a side of fries has 400 calories, 19 g of fat and 740 mg of sodium. The Caesar side salad is a healthier option than even the side house salad, which has 230 calories, 15 g of fat and 7 g of saturated fat.
The larger Caesar salad that comes with Applebee's lunch combo meals has 220 calories, 19 g of fat, 4 g of saturated fat, 8 g of carbs, 2 g of fiber and 4 g of protein. With only 360 mg of sodium, the Caesar is your best salad option if you're trying to reduce your sodium intake.
You can make either Caesar salad healthier by asking for the dressing on the side. Then dip your fork into the dressing rather than pouring it over the salad, as recommended by the Centers for Disease Control and Prevention.
Allergens
According to the allergen information listed on Applebee's website, the Caesar salad with dressing is safe for individuals with peanut, shellfish and tree nut allergies. Avoid the salad if you are allergic to soy, dairy or wheat, since it does contain ingredients with those allergens. If you have an egg allergy, request the salad without dressing. Keep in mind that even if the salad does not contain a particular allergen, cross-contamination is always a possibility in the restaurant's food prep areas.
More Menu Options
In addition its regular Caesar salad, Applebee's offers an entrée-size grilled chicken Caesar salad with 820 calories and 57 g of fat. To make this a healthier option, order it without dressing. You'll save 450 calories and 47 g of fat. The grilled chicken Caesar salad is also available in a half-size. You can find complete nutritional and allergen information for these menu selections on Applebee's website.