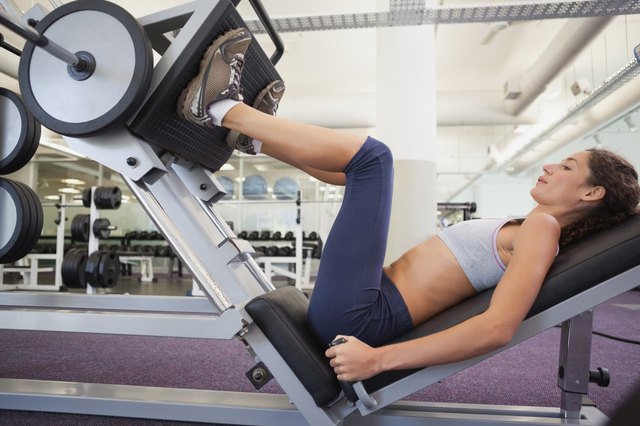 The main mover during a strength exercise is called the agonist muscle, and the secondary mover is the synergist muscle. The leg extension is a single-joint, isolation exercise that has only one main mover, the quadriceps muscles. However, other secondary muscles do come into play during the leg extension exercise.
Left Leg Extension
The left leg extension is a single-leg, isolation exercise that works your thigh muscles. You straighten your knee against resistance. Use a leg extension machine, cable machine, exercise band or ankle weight for the resistance. Start with your left knee bent at 90 degrees and lift your lower leg until your knee is almost straight, but don't lock your knee all the way out. This exercise is more challenging if you stand and hold your left thigh so it is parallel to the floor throughout the movement.
Agonist Muscles
The quadriceps, the muscles on the front of your thigh, are the agonist muscles for the leg extension exercise. The quadriceps is a group of four muscles: the rectus femoris, the vastus lateralis, the vastus intermedius and the vastus medialis. These four muscles act to extend, or straighten, your knee. The rectus femoris attaches to your hipbone and does double duty as a hip flexor, while the other three muscles attach to your thighbone. All four muscles attach to your tibia, a bone in your lower leg, just below your knee.
Secondary Muscles
Synergist muscles assist the primary mover and stabilizer muscles stabilize parts of the body so the agonist can perform the movement. When you are seated, muscles in your upper back, including the trapezius and levator scapulae, are stabilizers for the quadriceps during the left leg extension exercise. More muscles are involved if you do the left leg extension in a standing position. Your abdominal muscles and glutes help stabilize your body, and your hip flexor, or ilipsoas muscles, assist the quadriceps in holding up your thigh.
Antagonist Muscles
Many muscles in the body work in pairs -- one muscle pulls and the other pushes, or one muscle extends and the other flexes. The antagonist to the quadriceps is the hamstrings, the muscles on the back of your upper thigh. The hamstrings flex, or bend, the knee. When the quadriceps muscles actively contract, the hamstrings are stretched. Hamstring inflexibility could affect the range of motion you can achieve on a standing left leg extension exercise.